He packed his clothes and went to his parent's house for Christmas. At first, he said he wanted us all to go with him. But I couldn't pretend everything was okay to please them anymore. They didn't understand or even care about the emotional roller coaster that we were on. And I knew my lack of a fake smile would be turned around against me… as the one causing the problems.
No matter if I went or stayed home I'd be criticized… so I decided to just stay home and enjoy Christmas for once.
In the end, I was blamed for "not allowing him to see his parents" and keeping the kids from him. Thirteen years of being blamed, I was tired! Ready for it to end. After he returned, on New Year's Eve, I told him I was done. Done playing this game anymore. He needed to get serious help (for himself, no longer to appease me) or I was filing for divorce.
Oh, he cried and told me he was going to "stand for our marriage" (like I had for way too many years) and not allow me to throw away all those years "we" had worked for. But as I suspected that promise was empty, just like all the rest. Within a few weeks, I found his wedding ring in his dresser drawer and I saw the adultery pattern repeating.
Months later, after he filed, I decided that I needed to confront him, trying to get the entire truth out of him, to gain some sort of closure. I told him I needed to talk to him on the phone and that he should call me after work.
After getting him on the phone, I came straight out and asked if there was another woman. I just needed to hear the truth. But he denied it, of course. He said the same thing he had always said, that he just wanted to be alone and "build a life by himself." He said he'd see the kids and "maybe someday" after the divorce was final "we'd start dating again and see about getting back together." That was all I needed to hear. The same line of bull. Same story, different year.
Then within minutes, he said his "male friend" (a married man who probably puts his wife first before phone calls from his friends) was on the other line and he couldn't wait. I knew it was her. He thought I was stupid! But the fact was, he is never going to be honest. I needed to accept that.
He said he'd call me back. When he did I didn't answer; I was done. I couldn't be married to someone who cared about me so little to even tell the truth. It played out exactly how I needed it to. I knew everything he said was to keep me on his back burner, where I had always been, and it was time I took myself off the stove completely.
Disrespected Boundaries
I knew history had repeated itself yet again. Yes, I had said I was done, I get that. Maybe I shouldn't have said it, but I really meant it… and he needed to know my boundaries. I couldn't be married to someone who didn't value integrity or the vows that were taken before God.
He had held the word divorce over my head for our entire marriage. If I messed up… he was always done, leaving, I needed to leave, or "this was his last straw, we were getting a divorce."  I never cheated or crossed his boundaries, but my imperfections as a human being warranted his threats (in his mind).
And the minute I asserted my boundaries and asked him to honor me as much as I honored him, I was discarded. I was finally realizing the pattern would just keep repeating if I didn't take myself out of the equation. Plus the destruction was beyond repair especially since I wasn't willing to continue to be the solo-clean-up crew.
Unrepentant
That phone call proved he wasn't willing to come clean with the truth. That and a couple statements about me "always making up accusations" and "it makes him want to cheat because I'm always saying he is" showed me what I had been learning about. (Psychological blame-shifting and gaslighting.)
It was also his actions all throughout the divorce process that told me he did not have a repentant heart. It was always, "I'm sorry… BUT!" or "What about what you did?" And he would rebuke me with "look at all that I do for you" while leaving the kids and me without some major needs met.
When people reminded me to look at the bigger picture, not just listening to his words, I saw the truth about it all. He was doing just enough to get by, to protect his reputation. There was never a sincere apology, no complete 180, and he was unwilling to repair the damage that he caused. And there was nothing I could do to force repentance and I couldn't "fix" a man who couldn't see the need to fix himself.
No other way to heal
Furthermore, I wasn't allowed to openly heal, especially after each act of adultery. He said it would hurt him and cause him to stumble when I brought anything up. If I was triggered at all (which we all know happens after betrayal trauma), I had to pretend I was fine or see his rage. If I was having any hard feelings, I wasn't allowed to talk to him or anyone else about it – because that would be talking bad about him.
Healing had never taken place! I couldn't freely heal around him. I was supposed to brush everything under the proverbial rug right away because he didn't deserve for me to hold it over his head. My emotional trauma meant I was unforgiving so I was the one causing the problems. And I was supposed to trust him completely, even if he chose to lie to me again and again. (Be sure to read: Forgiveness: What It's Not)


Do you know what that did to me and my heart? My natural anger for the injustice had compounded because I wasn't allowed to release it. That pain festered (which I was also blamed for). It got to the point that the last year of our marriage I was quite repulsed by him. He was unrepentant and I was just supposed to pretend like everything was great between us. Keep up the show, give him a hug, and we'd be fine. If only I could continue to paint the same beautiful (fake) picture he was (where any mistakes were my fault), but I just couldn't do that anymore.
[socialrocket-tweet quote="I couldn't continue to paint his beautiful picture of a happy marriage when I knew that was far from the truth." tweet="I couldn't continue to paint his beautiful picture of a happy marriage when I knew that was far from the truth."]
I knew it was time for the marriage to end… so I could learn to live in peace and get emotionally healthy without anyone holding me back. I needed to untangle and have a new beginning. No more waiting for him to change or to "get it", I had to give it all up to God and walk in the direction of my own healing. In the end, God worked it all out for good! And I am thankful for His healing.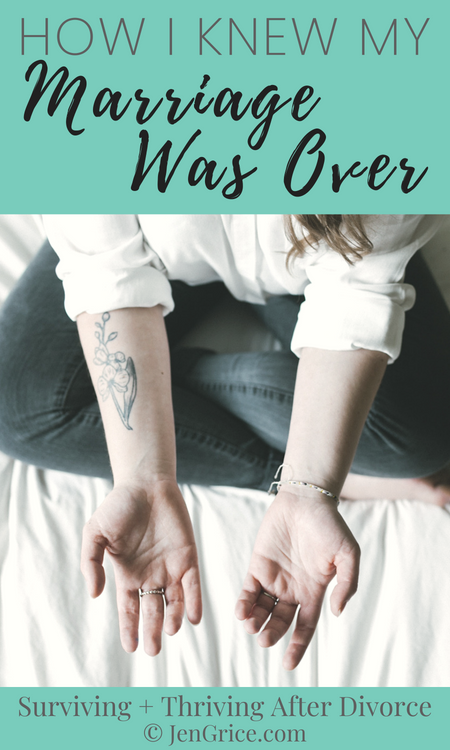 How did you know your marriage was over? Feel free to share anonymously (real name not required) in the comments below. #OwnYourStory
May God bless your healing journey,