And we know that God causes everything to work together for the good of those who love God and are called according to His purpose for them. For God knew His people in advance, and He chose them to become like His Son, so that His Son would be the firstborn among many brothers and sisters. And having chosen them, He called them to come to Him. And having called them, He gave them right standing with Himself. And having given them right standing, He gave them His glory. – Romans 8:28-30 NLT
Do you believe that God can work this (the divorce, abuse, abandonment, the financial stuff, the anxiety, & PTSD, loss of family or friends, and more) out, for good? I do!
I believe this because it says so in God's word.
It also says, "He chose them to become like His Son"… "He called them to come to Him"… "He gave them right standing with Himself"… and, "He gave them His glory."
What an awesome promise!
I believe this to mean that God, in His sovereignty and love for us, knows what is best for us. So for some of us, He called us back to Him from our abusive or sinful husbands – where we could never flourish. He wants to protect us and free us from oppression. With that freedom comes right standing and growth. To be more like His Son… Jesus. Eventually, we will see glory! (Oh, I can't wait!!)
The gains.
Thanks to my divorce… Seriously! thanks!… I have produced the fruits of the Spirit. Something I don't think I ever could have done while I was in a toxic marriage. Now I have had more time to work on myself. To be the best, fearlessly authentic, me. The woman God created me to be. I now can experience joy, peace, and so much more patience! One reason for that is, I no longer have drama invading my every single day.
Although some people from my past try I just don't participate. That's not selfish or immature that's called self-care and boundaries.
Another gain is that I now mentor/coach other women who are struggling during and after divorce. I want to give them that same hope – something good can come out of something bad – and a strong faith that comes from working through the healing process with God.


A Strong Faith.
As I work on myself… my faith (much like Ruth's) in God's promises continues to grow. I trust Him with everything. (Even this blog.) For the last few years, He has shown me that He loves me while He protects, provides, and comforts me. Now, I'm not as easily swayed by small life storms that blow in. Because I know He's got this storm too. In all of my trials… He always remains.
People may come and go… but God still remains.
People may hurt me and leave me… God still remains.
People might take from me and use me… God still remains.
People might take my children… God still remains.
Bad, sad, and scary things will happen… God still remains.
Faith is knowing that I have hope… for the future. And everything is as it should be. Hope that something beautiful is going to come out of my divorce. I may not see it yet… but I have faith that one day…
Faith is the confidence that what we hope for will actually happen; it gives us assurance about things we cannot see. – Hebrews 11:1
My loss.
I rarely talk about this part of my life, outside of a small number of close friends, but I think it needs to be shared now so that you know my life is not perfect, after divorce. Because it's not.
If you did not know, I do not have a healthy relationship with my adult children. That is not my plan. I know some of you experience that same pain as well.
Because humans have free will, God – as well as myself, because love is respecting others' boundaries – allows (adult) people to make their own choices in life. Even choices that are hurtful or sinful. Even in this situation, I truly believe God will work it out… one way or another. In His time. His plan is still perfect… even if we don't always like what we currently are experiencing.
He knew this would happen. He knew how it would change me (and possibly them)… for the better. God has got that part of my life too. So I do not worry. I just wait for His glory.
[socialrocket-tweet quote="Can God work things out? YES! He WILL work things out for HIS good. And your good." tweet="Can God work things out? YES! He WILL work things out for HIS good. And your good."]
It may not always be the way we think "good" should look. Who knows if it will even be in our lifetime – lots of people did more after their death to change the world than while they were living. But He will work out, even the bad stuff and the sin of this world, in His time.
Even divorce.
Especially divorce.
God uses everything.
He will redeem everything.
God will work it all out.
It's a promise we can count on!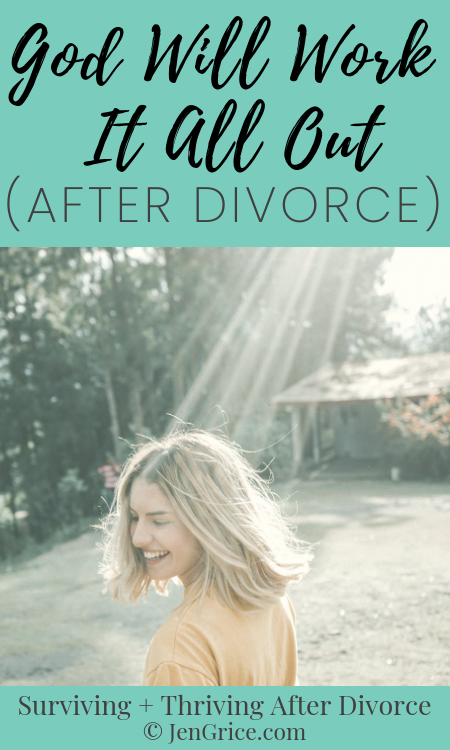 Are you trusting God doing this season?
God bless your healing journey,