I've never been someone's affair partner. I would never do, what several women have done to me. But I don't totally put the blame on these women, as they were duped and lied to, just like I was. On the other hand, we all know dating someone who is still legally married, no matter how many days or years he's been separated, no matter what lies come out of his mouth, is wrong. Period! No excuse. Once you know he's married… everything should be over.
While I was married, while he was "dating" these women, I was on the back burner… not them. The back burner is where you get tossed aside and not the priority in someone's life… you're the back burner person. A wife can feel very unimportant when someone else is invited to the marriage.
Back burner: a condition of low priority or temporary deferment or put aside for the time being, as a subject that is not of immediate concern but that may be activated later; postponed (Dictionary.com)
There were many times I felt like I was "postponed," of low priority, and put aside for a time. I was basically kept around in case things didn't work out with the current mistress and for when he decided he wanted his "family" back – to look good to someone. He wasn't completely committed to me or the mistress, yet we both allowed ourselves to be used in his manipulative and deceptive game of adultery. That is such a low place to be.
A constant state of limbo.
I hear from ladies all the time who tell me they're "living in limbo." Their husband has left, sometimes has a mistress (sometimes not or she believes his lies), yet he tells her that he might be coming home. He often states he "still loves her" and the kids, "and always will."
These are the same lines I was fed. And because I refused to see the truth through the lies, I was put on the back burner, again and again, and again. My worth was so wrapped up in being a "wife" that I didn't matter to me. It was all about saving the marriage… to save "the family."


We believe the empty promises because we so want them to be true. But when it comes to actually, do what he says he'll do, he doesn't and he won't. We'll continue to be his back burner person because it was all just words to keep you there. To keep you hoping and guessing.
Narcissists love to keep their love interests – their supply – guessing. They ride the fence on most everything so that they can't be blamed for whatever they're doing. Their "image" is so protected that they'd never allow anyone or anything to ruin the fictitious character they've created.
Character is the most important.
A person's character is who they are when no one is watching. The true character of a person tells you how kind they are, how honest they are, and their level of self-control – the fruits of the Spirit. We need to look for fruits in someone, over time, to see what their true character is. Narcissists often try to keep this part of themselves hidden at all times – that's why they need to protect their image – so they tell you what their character looks like.
The most important thing I had to learn is… a husband's character (even the hidden parts of him) does NOT define the character of the wife. I didn't need to keep protecting him to protect my own character or to protect the marriage… which was based on lies. My job was and is to keep having the fruits of the Spirit, trust God, and allow others to see the truth about any given situation.
Even with our children, their character and choices in life do not define me as a person or a parent. I know I did the best I could do, at that given time, so their life and their path… is totally up to them.
You'll be treated how you believe you deserve to be treated.
I wasn't treated well growing up. As I've stated many times before, I learned to believe that I didn't deserve to be treated with loving-kindness or respect because that's what I was used to. So this translated into how I allowed others to treat me long into adulthood. I was always someone's option, and never a priority… even after marriage.
After my divorce, during therapy, I learned that I was unconsciously trying to fix my childhood wound while dating and marrying someone who could never love or respect me. My empathetic and carrying heart wanted to care for someone who "needed" my love. But the fact was, I didn't allow myself to see that I would never be put in that same priority position.
Learning to see myself through God's eyes, as loved and cherished, has taught me that I deserve to be treated with loving-kindness and respect from every person in my life. I treat others how I want to be treated and I deserve to be treated the same in return, not as a back burner person. When someone doesn't see the value I bring to the table, I remove myself from the kitchen. Just not worth my peace to try to keep that person in my life.
Once you brush disrespect, care and concern for yourself under the rug, like it didn't happen, you give others permission to keep treating you in that very same manner. You don't deserve to be a back burner person, any more than I do. Let's never be a back burner person again! Are you with me?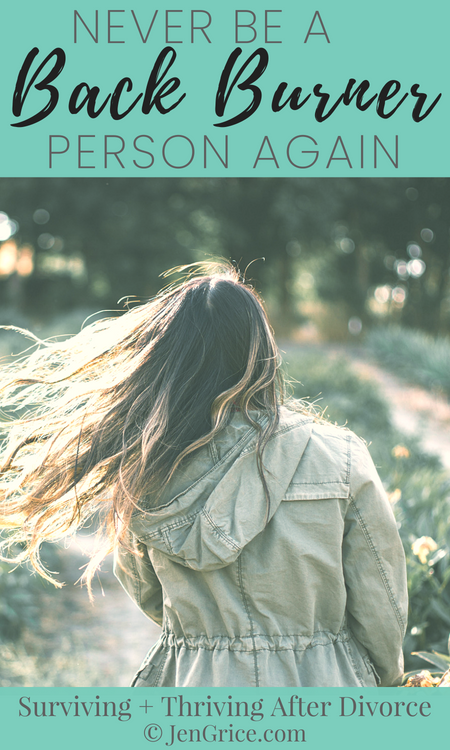 [socialrocket-tweet quote="Go where you're appreciated, not used for when you're just needed. Never be a back burner person again!" tweet="Go where you're appreciated, not used for when you're just needed. Never be a back burner person again!"]
Have you learned that you deserve to be treated better than being placed on the back burner?
God bless your healing journey,