Learning boundaries after divorce is very important to your emotional health. Those who focus on their own emotional healing, moving past any roadblocks, find that they're able to gain complete healing, master boundaries, and thrive after divorce. Women who assert themselves with boundaries find some notable things happen because they're no longer consumed with trying to make other people happy.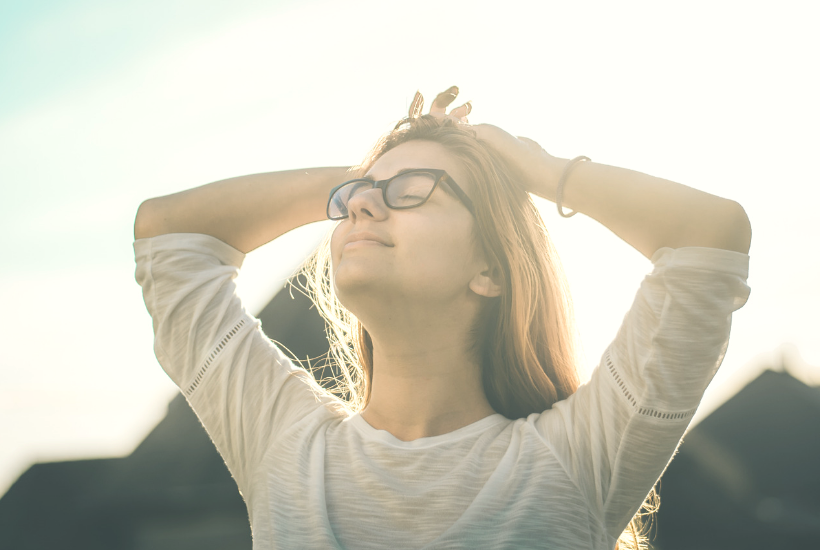 Every person needs to consider others but… not instead of yourself.
Do not devalue your own limits (on your time, space, and wellbeing), your standards, and your feelings in order to make sure other people have everything that they want in life. Only people-pleasers, allow others to walk all over them just to be "liked" by all and not have to deal with uneasy feelings like guilt. The truth is, as uncomfortable as it may be, not everyone is going to like you or be happy with you at every moment… so it's a good idea to just do what's best for you instead of trying to please everyone.
People who own their lives do not feel guilty when they make choices about where they are going. They take other people into consideration, but when they make choices for the wishes of others, they are choosing out of love, not guilt; to advance a good, not to avoid a bad. – Boundaries*
6 Noteworthy Things That Happen When You Master Boundaries
1. Acceptance and respect.
When you set a boundary or limit in your own life (like, I won't allow family members to take advantage of me or I won't stay in the same room with someone who is yelling) and you enforce that boundary (by saying no when asked for more money or actually leaving when that person is yelling again) one of two things usually happens. Either the boundary pusher (probably a dysfunctional person) gets angry at you for asserting yourself, showing their disrespect and disapproval for your needs. Or the person learns they need to accept you and respect what limits you've placed on your own life for your wellbeing.
Self-centered people often get angry when someone tells them no.
Respecting your boundaries isn't waiting for others to do it… you need to do the work to have boundaries and let other people be how they are going to be. It's also helpful if you surround yourself with people who understand and respect boundaries as much as you do. But if you can't gain acceptance and respect from others (people without boundaries) then you at least start to feel acceptance for your own self as you work to do what is healthiest for you. These limits that you need in your life are what make you, you – the very best version.
2. Less resentment.
Saying no to some things leaves room for you to say yes to other more important things. But if you're always saying yes, always offering to help, and always being the person everyone counts on (the main caretaker), eventually you'll run out of time in the day and exhaust yourself. Additionally, you'll let down a lot more people when things fall through the cracks because you can't do it all – no one can. Those people you promised everything to will start to resent you for trying to do it all or for making empty promises.
Similarly, when you're overdoing things, feeling overworked and unappreciated, you'll start to resent all these people who've asked for your help and seemingly need you right now. As that resentment inside you builds, you learn that saying no sometimes, not taking on more than you can handle, and allowing others to carry their own load, is the healthier way to live your life.
3. No longer being pushed around.
Mastering boundaries means you have a clear cut view of what you will and will not tolerate. Someone's anger for your boundaries is not your problem – your eyes are on your peace. A person trying to manipulate you into saying yes or doing something, or more than you're comfortable with is a red flag that they have little respect for you.
Having assertive boundaries means you're a much stronger woman, ready to assert yourself when you need to and not affected by someone else's displeasure. You may think you'll scare off all friends or a potential dating partner. But dare to say, you won't scare off the right people only the wrong ones. Healthy people have healthy boundaries. And healthy people understand that every healthy relationship needs boundaries.
Since you cannot get them to change, you must change yourself so that their destructive patterns no longer work on you.
Example: Dysfunctional people may think, oh you're not going to react to my anger for saying no to me, you must not care (manipulation). No, I care, I'm just not going to participate in your dysfunction. A healthy person talks to another person with respect even when they don't like what the other person is saying. (Healthy dialog: I felt hurt when I thought you might help me/do this for me but I understand you have to do what's best for you.)
4. Freedom to be your authentic self.
As I said, anyone who accepts the limits you've placed on your own life and your resources accepts you. Those who allow you to have boundaries see the reason you need those limits on your own life. They're allowing you to be your authentic self – the person you were created to be. You don't need a mask to pretend you're okay with saying yes or doing what someone else can do for themselves.
Example: People who've known me since 2011 (when I started blogging) know that I don't turn on my computer on Sundays unless I absolutely have to (website is down or important email to answer – I don't like to type on my phone). I started doing this Sunday-break to give myself, and brain, a rest from working and the computer screen. I can be a workaholic if I let myself be (even with having a chronic condition) but having this limit on my own self has helped me to take a rest day. And I usually stick to it. But occasionally throughout the years, I've had a person or two be upset with me for this needed boundary on my life – when they took a different day as a rest day.
My limits help me to the best version of myself I can be. Your limits should do the very same thing – even if they are different from mine. Being your authentic self means you also gain authentic relationships.
[socialrocket-tweet quote="My limits help me to the best version of myself I can be." tweet="My limits help me to the best version of myself I can be."]
5. A very peaceful life.
When you're not allowing people to push you around, manipulate you, you're no longer feeling guilty for telling them no, and setting limits on your own life to be less resentful, all that is left to feel is peaceful. You are mindful of the new life and home of peace that you're creating. It's so much easier to thrive in life when you have healthy people around you rather than dysfunctional people who love chaos.
6. Easier time with communication.
The biggest advantage of mastering boundaries is also learning to communicate in an honest and assertive way. After you've practiced saying no 100's of times without being manipulated, told others that you would not stay in destructive situations, and found freedom being your authentic self, you find it easier and easier to speak boldly when needed. You no longer live in fear that someone will be upset with you when you're doing what is best for you. And you've mastered how to say exactly what you need or don't need it in your life to be emotionally healthy.
I really wish I had learned boundaries long before my divorce. The people from my past who like to take advantage of people for money or things think I'm mean for saying no and limiting my resources to them. I should be willing to just hand things over like everyone else in their life. But mastering boundaries has taught me, that's their problem to fix and not mine. I have to just do my best, to be my best, and live a thriving life. Those who love me will keep calling, wanting to spend time with me, and accept my healthy boundaries.
It's scary to realize that the only thing holding our friends to us isn't our performance, or our lovability, or their guilt, or their obligation. The only thing that will keep them calling, spending time with us, and putting up with us is love. And that's the one thing we can't control.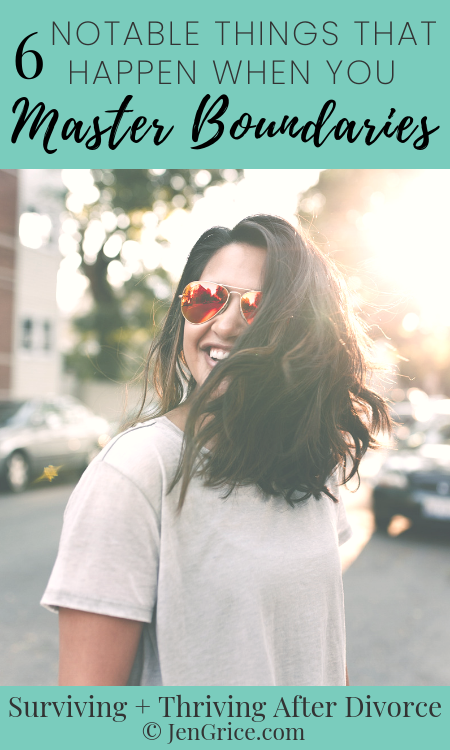 What holds you back from mastering boundaries? Or what benefits have you found from master boundaries and asserting yourself in a way that you can feel good about?
May God bless your healing journey,