The hardest thing a separated or divorced mother has to do is let go of her child, especially much earlier than she had originally expected (the age of 18 or so).
It's not supposed to be this way, that's why it hurts so much. We have to mourn what should have been – for ourselves and our kids.
I've personally coached ladies who've had to hand over their nursing baby to their STBX or ex-husband. This breaks my heart because I can't even imagine how difficult that must be for a mother. It's not easy at any age. But we persevere and we make it through. And we hope and pray that our children aren't traumatized by all of this. I tend to believe with God, by our side, they're not.
It all has a reason and a purpose… and will be worked out good in the end. That's always God's will.
Missing a child while gone on visitation.
Sharing a child with someone outside your home is hard. It has never been easy for me to let my children go, especially knowing they were seeing immoralities at a very young age. I'm sure you can relate. But I always knew it was what was best for my child – although it doesn't always feel that way. I knew it my job was to foster a relationship, no matter what that looked like, between the child and his/her father.
But let's be honest for a quick second, missing out on huge chunks of our children's lives and not being allowed to participate in all parenting, is the most difficult thing we have to do. I'm not sure people even understand the sacrifice we as stay-at-home moms face when our children are all of a sudden not there every day. Married women will say, "Oh, you're so lucky to get a break once or twice a week." They liken it to a free-babysitter or grandma taking the child for the weekend. But we all know, it's not the same!
I also know that my children will grow up one day and be able to decide how they felt about each parent, for themselves. We can teach them to see the difference between "healthy" behavior and "dysfunctional" behavior and hope they one day understand. Or at least that has always been my hope. (I haven't seen much of that just yet, really, but I trust there is still time.)
God is also a Co-Parent.
During this time, I have learned to partner with God to parent and protect my children at all times, especially when not with me. I can feel confident that when I'm releasing my child to his other parent, that his loving Father goes with him as well. (We prayed that together in the very beginning when he was very nervous.)
Much like Hannah did (in the Bible), I can give all my children back to God, and He will care for them much more than I ever can (or could). We can trust God (holding tightly to Him). And we can trust our children to tell us about the unsafe things that go on. Be sure to let them know you won't ever be mad as long as they always tell the truth.
Make the time go faster… focus on other things.
I know everyone gives this same advice but it really does work! The time my son is gone seems to fly by because I usually have plenty on my to-do list. I started this way back when the visitations were in our home. Now, I find it easier to grocery shop, write, and coach clients when I have no distractions.
Another idea, especially if money is tight, is to pick up a side-hustle (a work-at-home job or similar) that keeps you busy while giving you extra cash in your pockets at the same time – without having to pay a sitter. For a couple of years, I bought into a home-based direct sale company. When I put in the effort and didn't purchase any products (that's the hardest part), I would bring in a couple of hundred extra dollars. And I could do home-shows when my child was away.
I also completed my bachelor's degree, taking classes the same weeknight my child was gone (I did have to pay a sitter to be there while I was still in class and he was getting ready for bed). All these things made it much easier for me to focus on my own growth and rebuilding after divorce, instead of missing my child. And more importantly, it put myself, and God, back at the center of my life… rather than a husband and my children – which I had done for most of my adult life.
It's time to make your life about you!
I have been a mother for 24 years. That is more than half of my life. And I don't regret any of that time I spent at home with them. I enjoyed leading the Girl Scouts and keeping the score at softball games. I loved being a room mom, going on field trips, being part of the PTA, and later homeschooling two of them. But at the same time, I don't remember what it's like to be a single woman without children. It was such a short period of my life. (No regrets! My choice.)
In the last five years, I've been finding her again, what she likes to do, her dreams for the future, what God has planned for her, and what life will be like after my youngest child is raised. I finally have personal short-term and long-term goals again that don't center around anyone else's. In a few short years, I'll be able to travel the world and nothing will hold me back.
Life after divorce can be about you! And you should not feel guilty about it either!
Treat yourself.
This is more "common advice" for when children are gone but do we REALLY do this? Without any guilt? I know I still find it hard to not put my children first. Sometimes they don't even seem to mind me putting myself last. To buy what they need before I buy for myself. I have a prescription on my desk for treatments, but they cost money that could be spent on other things. I tend to put this kind of stuff off for… down the road.
Another reader shared some great advice, left in the comments of this article, so today I wrote "schedule a massage" on my to-do list for next month. Now just to follow through, right? Also, it's my birthday month and I'm going to treat myself to several things, for the first time in a very long time. I should have done this last year when my birthday fell on Father's Day but for many reasons I didn't. This year I'll do better. I hope you will too! 🙂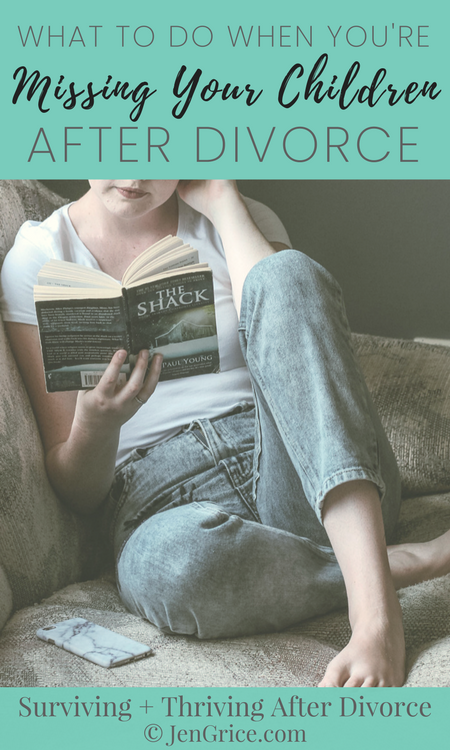 How are you doing and what are you doing when your child(ren) is with the other parent?
May God bless your healing journey,