This post is not me saying "I have no empathy for single moms"… actually, quite the opposite! I hope to encourage others, including fellow Christians and divorced women, to have loving compassion and empathy for all single mothers (the beaten-down traveler) and love them like yourself.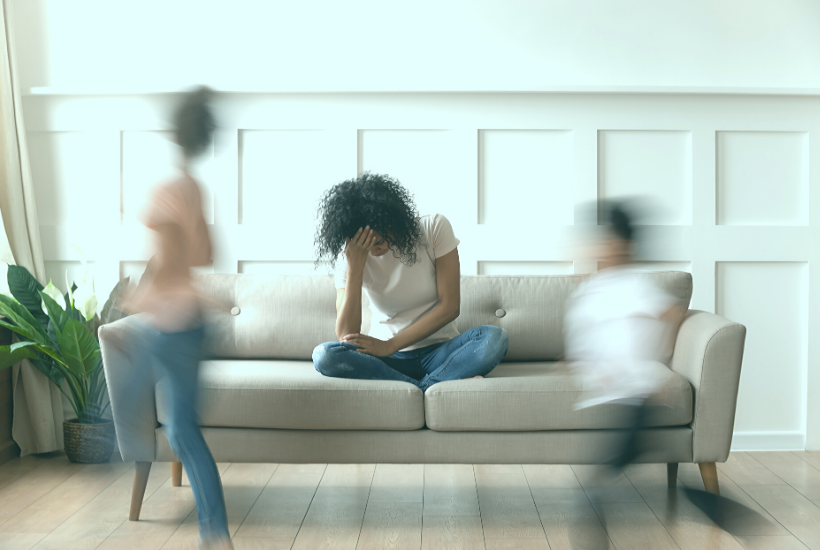 Do you know the Parable of the Good Samaritan? The story Jesus told the "experts of religious law" in Luke 10? It goes like this…
Jesus replied with a story: "A Jewish man was traveling from Jerusalem down to Jericho, and he was attacked by bandits. They stripped him of his clothes, beat him up, and left him half dead beside the road. By chance a priest came along. But when he saw the man lying there, he crossed to the other side of the road and passed him by. A Temple assistant walked over and looked at him lying there, but he also passed by on the other side. Then a despised Samaritan came along, and when he saw the man, he felt compassion for him. Going over to him, the Samaritan soothed his wounds with olive oil and wine and bandaged them. Then he put the man on his own donkey and took him to an inn, where he took care of him. The next day he handed the innkeeper two silver coins, telling him, 'Take care of this man. If his bill runs higher than this, I'll pay you the next time I'm here.' Now which of these three would you say was a neighbor to the man who was attacked by bandits?" Jesus asked. The man replied, "The one who showed him mercy." Then Jesus said, "Yes, now go and do the same."

– Luke 10:30-37 NLT (Emphasis mine)
Feeling a Lack of Compassion.
In the years since my divorce, many times I've felt like that traveler. I've felt emotionally beaten down by circumstances or by just hurtful people, while I was too weak to get back up or even try to defend myself. I have experienced the sting of pastors walking by showing no compassion, trying to keep their distance – I've even been shunned and blocked by a Pastor's wife for some unknown reason.
I've been wounded, yet again when widows (women whose husbands had died) told me they and I were not the same! They indeed were "not single mothers," like I was, because they were not abandoned by their loving husbands. And surely I should see things the same way they do. (I hope that if that had my path that I would have handled things much differently!)
I know if I've felt this callousness, even just once, I'm not alone in this experience. Other single mothers are feeling the blame and seeing the hierarchy of single motherhood. Did the Good Samaritan blame the beaten-down traveler for the "mess" he was in, stripped of clothes and beaten, left for dead? No, he felt and showed him compassion.
The Hierarchy of Single Motherhood.
If you are a never-married single mom or a divorced mom, then you know about the hierarchy that I speak of. Those who choose single parenthood by artificial insemination and those who are widowed sit at the top level. While other single mothers, divorced and never married, sit somewhere at the bottom – seemly to blame for our unfortunate position. They say… you should've made better choices!?!
It was just last year while attending a school open house and registration for my son, that a single mother (by choice – with money) and her son sat right next to us. We had talked before at church events since our sons are in the same youth group, so I said hello. After some small talk about college and jobs, I stating something about even with a 4-year college education, I have no job experience because I was a stay-at-home mother and wife for much of my adult life. (After saying this was a great program for kids to get both education and experience.) To which she proclaimed Oh, you are one of THOSE mothers… [she] was a career woman! (My jaw dropped. Was she judging me for my choice to get married, have children, and not work??)


I didn't argue. I just let her believe that she was better than me – just a mere former housewife and homeschool mom. She can judge me for my life choices which I do not regret… even now with being divorced… if she wants. I refused to try to explain the good I'm doing now in this world – even still living outside the "career woman" box – actually thriving in life (without a life-long "job"). If she, in fact, was judging me that says more about her than it says about me.
Furthermore, I have no judgment for her choices, even if they are different than mine. I can say that because God has already dealt with me and my view of any hierarchy of motherhood… or womanhood. The stones I once threw at others have been thrown back at me, thankfully! (Seriously!) My divorce humbled me – I see things so much differently. And doing ministry has given me so much compassion for all hurting women.
We are all on the same level, no one needing to be at the top or bottom… even if it doesn't feel that way. We are all just hungry for a little compassion and empathy on the tough road we travel – with the same or similar circumstances… parenting without a spouse means we're single all mothers.
Starved for Care and Compassion.
After years of living in the absence of friendliness, after the toxicity with my family, losing my friends, the unstable housing and black mold, my invisibility as a maid, I was starved for kindness. I was hungry for people to notice me, to start conversations with me, to accept me. I was hungry in a way I'd never been in my entire life.

– Stephanie Land,

Maid: Hard Work, Low Pay, and a Mother's Will to Survive
Stephanie Land shares her story of trying to raise children as a single mom living on food stamps, WIC, and depending on state programs for child care. She felt very trapped on these programs that were supposed to help her get ahead in life because any extra income cut her off the program that was helping her survive. I'm sure many single moms can relate to these struggles. I was on food stamps for a time during and after my divorce as well until they cut it down to only $15 a month (just for my son who eats WAY more than that)!
I honestly think many Christians and people, in general, find are easy to blame single mothers and divorced women for anything and everything. Not only are we blamed for our circumstances (how did you get into this mess?), but we're blamed for all of society's problems – troubled teens, welfare fraud, and other issues. We all hear the Christian publications, pastors, and marriage experts saying that divorce has devasting effects on our lives and our children's future. It might but we still just blame the women.
When a couple divorces, women take a major financial hit, with researcher Lenore Weitzman estimating that men's standard of living rises 42 percent after a divorce while women's falls 73 percent. The fact of the matter is that single motherhood is associated with poverty and other kinds of problems, and not because wedding ceremonies imbue a family with some kind of magical protection. It's because of a host of complex reasons that can't be boiled down into a moral scolding session about the value of marriage.

– Amanda Marcotte, Single Mothers and the Blame Game
Exactly! Many of us had no choice but to divorce!
I don't know about you, but it doesn't feel very empathetic or compassion to hear that because of my divorce, and the rising numbers of single mothers, the world is going to crap. That children are more likely to experience poverty, educational failure, and all sorts of mortal sins because we made a choice to divorce… or it was forced upon us thanks to an adulterous husband.
Compassion Doesn't Have an End Date.
When I'm not feeling well, which has been often lately as I'm trying to survive with Lupus, or my vehicle needs to be repaired, which has been a lot lately too, I just wish someone would see me struggling and offer a helping hand – not out of pity but because of compassion. Have some mercy on me and offer to run an errand or offer a ride.
Just because I've been doing this single-parenting thing for seven years doesn't mean it's any easier than when it first started – sometimes it's even harder. I'm raising a teenaged son, on my own. And any "co-parenting" is mostly opposition to what I'm trying to do – raise a boy to be a man.
Does the fact that I was married and now divorced matter when the fact is I'm still a single mother, without another partner to help on a daily basis? (This is probably why so many women marry quickly after divorce.) I'm still only one person doing the work of two – in a town that I was relocated to without friends or family. This just leaves both my son and me very hungry for acceptance and loving-kindness.
This is ALL that single mothers (and divorced women) want! To know people are going to be there when we are beaten-down, bruised and battered, laying on the side of the road in need of some assistance. That people are not going to keep walking by, or worse, stop and ask, "What did you do to cause this?"
But instead, they are going to be a Good Samaritan – a loving, kind, and compassionate person to give single moms a hand as they continue to heal and get back on their feet.
The Most Important Commandment.
Remember this the next time you see a beaten-down traveler… not matter their marital status or position in this world.
The man answered, "'You must love the Lord your God with all your heart, all your soul, all your strength, and all your mind.' And, 'Love your neighbor as yourself.'" "Right!" Jesus told him. "Do this and you will live!"

– Luke 10:26-28
I pray this ministry is just a small part of that change that I would like to see in this world. Where women are supportive of one another… not matter what their life choices are or were. We're all walking this journey to healing together!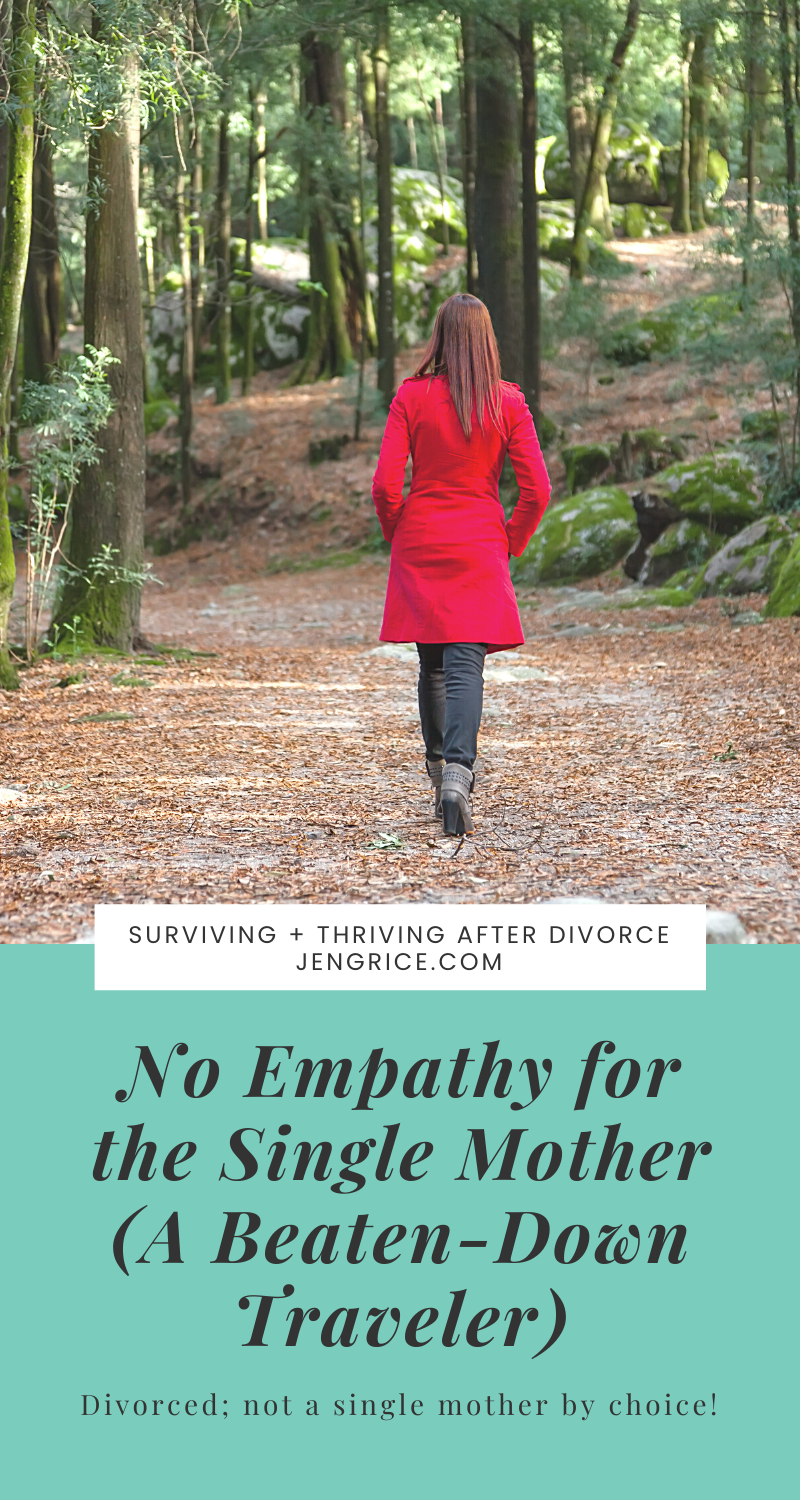 How have you felt callousness from other women or Christians on your journey during or after divorce? Where have you felt the most compassion and empathy from good Samaritans? Feel free to share your story. (Real name not required.)
May God bless your healing journey… with much compassion,