In many of the emails I receive, women reference their home as "being broken" after divorce or they may be been told that if they get a divorce their children will come from a "broken home." This was a phrase that I wrestled with while I was married. Looking back, it kept me trapped in my marriage and fearful of what other people would think of me if I did divorce.
During my divorce, I started to see the idea that divorce made my home broken as very much incorrect. I write in the hopes to change the dialog surrounding divorce, especially with Christians. Women shouldn't be stuck in a marriage fearing the shame they'll receive if they divorce.
While married I tried to create a healthy home environment, full of love, kindness, and family teamwork. But the truth was, I couldn't control the undercurrent that directed our home. The negative environment and selfish choices of one person created a broken marriage. Eventually, for my sanity, it became necessary to row in the opposite direction toward healing, boundaries, and a more peaceful life. I'm just sad that not everyone saw it that way – I was even shunned at church.
The marriage was "broken" and couldn't be fixed.
We all should be bothered by the fact that the word broken (meaning: not working properly and beyond repair) was made synonymous with divorce. Some even add the word dysfunctional to the mix, especially if one party or both are causing extreme conflict during or after the divorce. Of all the weekly emails I receive, I've never heard a woman say that she was enjoying the conflict she was experiencing and excited about creating more dysfunction in her life (or for her children).
Nope, instead, every single email states how she wants to know if her marriage is troubled or abusive. She wants to stop the destruction and dysfunction, to live in peace. And she often asks how to have an amicable divorce while her husband is causing so much misery. Most women don't want to fight, they don't want to be hurt emotionally or financially, and they just want their marriage to work (in a healthy way) or to be able to move on with life… to a thriving life… if the marriage needs to be over.
A home with two parents, still married, is not an "unbroken home." Hearts may be broken but that's because the marriage was already broken. Maybe just like you, women have tried to repair the covenant, tried to get help, and have realized that waiting around for a change that may never happen is dysfunction in itself. (Isn't that the definition of insanity?!)
We need to stop using this dialog.
I'm sure this is not your conscious dialog, but are you thinking this subconsciously – that your family is now broken without a husband? Do you ever feel as though your singleness or single-mom status doesn't measure up to a family that includes two people who are married?
This line of thinking will stop you from healing and learning to thrive. It keeps you trapped and stuck right where you are… without acceptance, grace, and mercy.
I don't even use the word broken unless I'm talking about a cookie, a toy, or a kitchen tool that I'm about to throw in the garbage. People are not trash! Humans are not garbage. God doesn't define divorce as a "broken home" so we shouldn't either.
Yes, hearts are bruised, in need of healing; marriages may be are destroyed beyond repair. And you may feel broken. But as much as it's said all over the internet, people aren't broken. I'm not broken. You're not broken. We're all not broken. God doesn't break people! Although He heals them, He doesn't even break hearts.
A bruised reed he will not break, and a smoldering wick he will not snuff out. – Isaiah 42:3
A better future.
God designs people, He builds them up. He grows people, not tears them down. If you feel like a broken house, He does all of the repairs (He's making something beautiful). He wants to give you a better future. A life that is thriving and flourishing, not living in destruction.
Divorce is not all broken homes and neglected children. Many times a divorced home is a healthier home because He gets rid of the person who's destroying it.
Single mothers/woman (and children) can go on to live emotionally healthy, thriving lives, after a time of healing and learning new ways to emotionally relate to each other. This comes when mothers learn to break the cycle of abuse and help their children understand the generational curses that plague their family history. We do not have to be our parents – kids don't have to repeat the mistakes of their parents.
Instead of saying my youngest child (the only one left at home) comes from a broken home, I'd rather say that he now comes from a peaceful home. The undercurrent is becoming a home of loving-kindness and teamwork –– something that could have never happened without the divorce. All I've ever wanted was my children to grow up being emotionally healthy and thriving in life. At one time I thought they needed two married parents occupying the same home. I was wrong! They need two parents who are actively working on becoming emotionally healthy – but they may just have to settle for one!
[socialrocket-tweet quote="My divorced home is not a BROKEN home! It's a home that's BECOMING more loving and peaceful – an environment where everyone can thrive!" tweet="My divorced home is not a BROKEN home! It's a home that's BECOMING more loving and peaceful – an environment where everyone can thrive!"]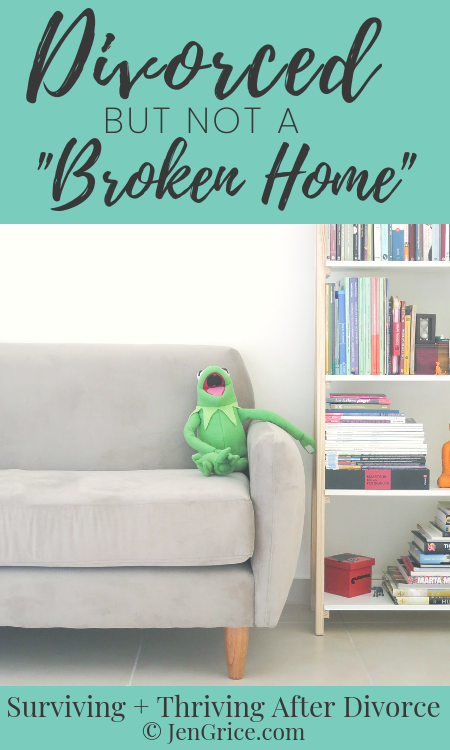 Have you changed your dialog around the phrase "broken home"? Have you had to defend your new life after divorce to anyone calling it that?
May God bless your healing journey,