I rarely hear from a woman who wants a divorce. Women may know they're in an abusive or adulterous marriage or have been abandoned, but instead of seeking a divorce, they separate and wait for their husband to make the first move. Many women just don't want to be divorced.
There are times when a separation is necessary or a normal part of the process while waiting for a divorce. But there are also many times that I hear from ladies who are in "separation limbo" waiting months or years without making progress towards a divorce. No matter the circumstances this is a very hard place to live.
[socialrocket-tweet quote="Living in separation limbo is a very hard place to be. And there are dangers if you stay there too long." tweet="Living in separation limbo is a very hard place to be. And there are dangers if you stay there too long."]
Normal separation waiting period.
I know in many states and countries, there is a mandatory waiting period before either party can file for or finalize a divorce in court. The separation can be weeks, months or years, living together or not living with your spouse. The court is expecting that the parties are "cooling off" before making any quick decisions while allowing for a possibility for reconciliation. The law depends on where you live so there is not much anyone can do about it.
When I was separated, I knew the feeling of not knowing if or when things will progress one way or the other. We lived in limbo while my former husband was living with, sleeping with, and financially supporting other women. But as the separation continued past several months, I knew I could not stay in this limbo forever. I knew one of us would have to file for divorce – he ended up doing it both times. Then, we processed through that normal waiting period because we had young children at that time.
Long-term separation (legal or not).
Many women wait to file or allow their husbands (in his own time) to file for varies reasons. I've coached women who have preferred to stay in this stage of limbo for the children, for the financial reasons (including insurance), moral reasons, or fear of what her husband would do in court, or of the unknown. Many of us know how scary it can be to trust the legal system to help us gain our independence and freedom.
In the long run, staying legally married for these reasons comes with many consequences or dangers. There is no finality, and often full healing cannot take place, because there is still that dependence on him, especially financially. You're in limbo because you don't know if he coming back home, is the marriage going to be saved, or what's next? You're still entangled with him physically (or financially) and emotionally. Your life is basically on hold, allowing him to decide.
You may be avoiding several short-term issues while gaining long-term problems. These problems can be minor or severe. You're not divorced so you're not 100% separated from him, his choices, and his problems. Circumstances change and you could be facing a greater hardship by waiting to divorce.
Who's legally responsible?
What happens when one of you gets sick or has a medical emergency? Unless there is legal document telling otherwise, you're responsible to decide what happens to him. And he gets to decide for you (his choice if you live or die). If he loses his job, you're legally responsible for his legal obligations. If you make a big purchase, he has a legal right to it. He can leave the state and file for divorce someplace else or refuse to do anything at all. If another state has more lax divorce laws, you could be out your half of the marital assets or alimony – if applicable.
Just this year, federal tax laws pertaining to divorce in the U.S. were turned upside down to help increase federal income and reduce the fraud that happens when those paying alimony claim they're paying more than they really are. This means receiving less income from alimony – since the payer can't write it off. Furthermore, who knows what other tax laws will be changed in the future that could harm divorced women even more.


If there are children, waiting to divorce might seem like the best choice. Why put the kids through this? But for many reasons, children are still be harmed. Legally, until there is custody established and a parenting-time plan, either party has a right to take their child and flee the country. It's morally wrong but it still happens. And this could get very expensive to try to get children back from another state or country.
Also, children wait and hope for their family to be repaired while living in this separation limbo with parents. They may want the arguing to end, they may want to see you happy, or not want to see their father committing adultery against you. Children need structure, knowing what's going to happen next, and security. Waiting in the unknown causes anxiety and other emotional problems, not knowing who they can trust.
Is there another woman?
Even if you think there might be another woman – you're probably correct – three people in a marriage makes marriage reconciliation almost impossible. And even if you are able to restore the marriage, things will never be the same. The covenant vow has been broken and cannot be repaired. Yes, God can do anything He wants to do. But the truth is, even 100% through God, very few couples are able to come to complete healing reconciling after divorce. If one of the two doesn't want to seek God, doesn't want to work on himself for why he chose to cheat, and fight for the marriage then divorce needs to happen.
It's not worth it to stay married for the sake of saying you're married, having marital status and insurance. If you're worried about what people think, they honestly think you're a dummy. I'm not saying that to insult you! I'm saying this from experience – I've been right where you are. Later, friends told me they thought I was dumb for allowing my husband to continue to live with another woman while I physically and financially took care of everything. They thought I was better off divorced! But they were just too afraid to tell me to my face.
I naively thought waiting to divorce was what was best for me and the children. Now, they blame me for everything. Staying separated leaves that chapter open indefinitely. Finalizing your divorce means closing a chapter so you can open a new one, full of healing, freedom, and security.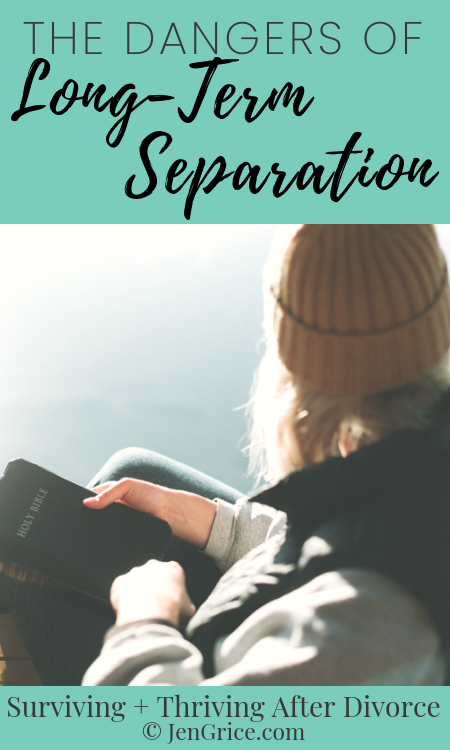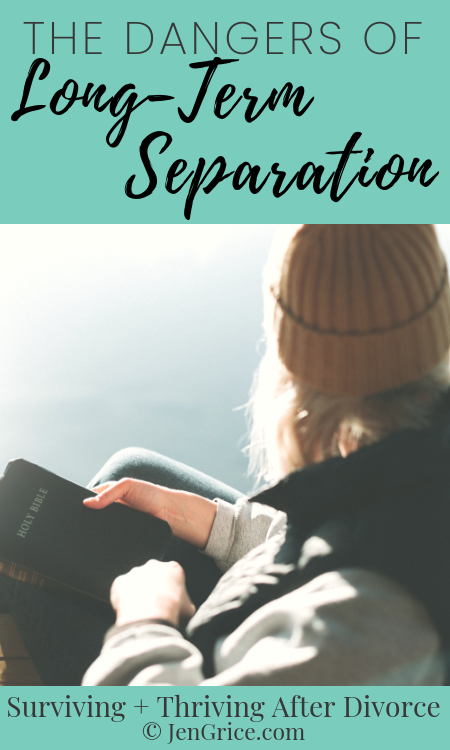 Are you living in separation limbo? Have you had to accept what is reality and file for divorce? How did you know it was the right time to file for divorce? {Real name not required.}
May God bless your healing journey,