Do you know, with all the coverage of domestic violence in our country that there are still women who do not feel that they can talk about abuse that still is, or has happened, in their homes? With all of the knowledge that is available on the Internet, there are still women who are confused to know if they too are being abused.
Sad right? But it is true.
Why is that?
I think part of it is that when we are in an abusive relationship, we are guilted into covering for the abuser. We're gaslighted to believe that the abuse never really happened or that it wasn't nearly as bad as we think it was. And even if it is that bad, and we know it is, then we certainly do not want the public to know about it. We feel shame!
Thoughts of "How have I gotten myself into this mess?" and "How could I have been so blind? Or maybe he is right, maybe I am crazy!" run through your head. So we cover. We hide it from others. We feel the shame that is wrongfully heaped on us. And then we unknowingly enable the abuser… as the abuse continues.
Compound that with the fact that when some of us do go to our church for help and guidance, we get the message again that it is our job (as the wife) to cover for the abuser. We're told that this is a "marriage problem" and that we should seek marriage counseling. And then keep that all in private.
That is so very wrong!
Abuse is not a marriage problem. This is HIS abuse problem. It is HIS control problem. HIS entitlement problem. HIS addiction problem. His lying is HIS problem. It is HIS adultery problem. HIS "problems" ruin the marriage, yes. But it was never a "marriage problem" in the first place. That is why marriage counseling for HIS problems does not work.
The abuser will try with all that is in him to heap the blame onto the victim. To project his own sin onto his wife ("Well if she hadn't…" or "If she had only…"). And because most victims are able to self-reflect on their own imperfections, she then will feel that she could have been a better wife. (We all can be better people!) Then the abuser will point out those exact issues to get her to take the blame for all of his actions.
[You may also enjoy my YouTube Channel where I talk about abuse education.]
We as a society do that too when we ask things like, "Why didn't you just leave him?" or when we look at adulterers as not getting something in their own marriage which causes them to stray.
That's blame-shifting!
Once out of that abusive relationship it is very hard to separate truth from what has been told to you by the abuser, and most times his family, for so very long. Everyone had enabled it. We were all covering for it. But now it is time to bring the truth out in the open. It is not the victim's or anyone else's job to cover up for the abuse/sin that went on inside a marriage.
No, the abuser will not want others to know he is an abuser. But with serious help, he doesn't have to make that choice to abuse anymore.
Let's look at it this way. Since most abusers do not abuse every single day, what if the husband has a 3 day a week heroin problem? How would we look at him, especially as Christians? Would we say, "There must be something that wife is doing to cause this heroin use?" Would we be saying, "Well, that's just their personal marriage problem…" or "but he seems so nice every time I see him? Such a loving and caring man."
No, we would say… he needs help for HIS problem!!
And there would be no blame put on the spouse for HIS choice to use heroin. There would be no shame on her either. It is clearly HIS problem in which he needs to get healing for.
Abuse is NO different.
Porn addiction. Serial adultery. Gaslighting and manipulation. Walking on eggshells because of his rage. Threats to take the kids and leave her homeless. Those are all HIS problems.
She doesn't need to change, or be better, or apologize for anything. She needs to allow the consequences to rest on the shoulders of the person who is doing the sinning.
God exposes sin. Jesus covers sin. The Holy Spirit guides.
Take no part in the worthless deeds of evil and darkness; instead, expose them. But their evil intentions will be exposed when the light shines on them, for the light makes everything visible. – Ephesians 5:11, 13-14a NLT

For as he thinks in his heart, so is he [in behavior—one who manipulates]. He says to you, 'Eat and drink,' Yet his heart is not with you [but it is begrudging the cost]. – Proverbs 23:7 AMP 

He who conceals his transgressions will not prosper, But whoever confesses and turns away from his sins will find compassion and mercy. Blessed and favored by God is the man who fears [sin and its consequence] at all times, But he who hardens his heart [and is determined to sin] will fall into disaster. – Proverbs 28:13-14 AMP

All who do evil hate the light and refuse to go near it for fear their sins will be exposed. But those who do what is right come to the light so others can see that they are doing what God wants. – John 3:20-21 NLT

Saul, also known as Paul, was filled with the Holy Spirit, and he looked the sorcerer in the eye. Then he said, "You son of the devil, full of every sort of deceit and fraud, and enemy of all that is good! Will you never stop perverting the true ways of the Lord?" – Acts 13:9-10 NLT
As you can see, it is not our job – even as Christians – to cover over someone else's sin. Abuse is a sin. Adultery is a sin. Lying, manipulation, and deceitfulness is a sin. Stealing what does not belong to someone is a sin.
The Bible never mentions that a victim should take any blame. Nor should she feel the need to cover, hide, or accept the shame for what has happened to her.
And if she wants to tell the world what SHE has experienced, what SHE lived through, then let her. It's her story to tell. No shame in that!
The shame and blame for that sin rest rightfully on the shoulders of the offender.
[socialrocket-tweet quote="Our job as Christians is not to cover over abuse to enable it to continue. But bring it out into the Light." tweet="Our job as Christians is not to cover over abuse to enable it to continue. But bring it out into the Light."]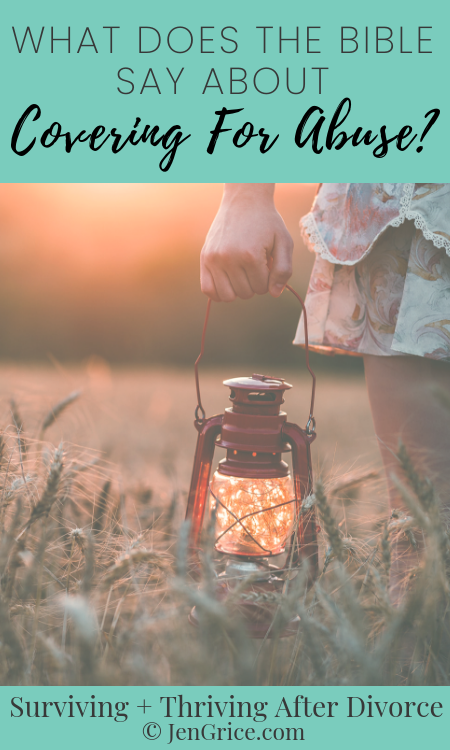 Are you able to expose the abuse you've experienced in your life? 
God bless your healing journey,