Seven years ago, today, a judge signed the final divorce settlement to declare my marriage had ended. After almost a year of going through the process, we were officially divorced. I didn't know it on that day but found out days later when I received a copy of the paperwork in the mail. There was no celebration (no divorce party for me) but there definitely was a sigh of relief that it was finally over. It was time to move on with my life.
Seven years of emotional healing has taught me that my divorce, and everything that led up to it, didn't happen because of something lacking in me. Instead, it was something lacking in him.
In those first few years, I fought the strong desire to think that my divorce happened because of me. It was hard not to think, something was wrong with me. Someone was prettier or skinnier. He just "fell out of love" with me. I was being rejected and I felt every bit of that rejection.
I don't have to take the blame.
Several times that year I heard, "THIS is why we're getting a divorce!" That was projection when I was bringing up all the wrong that was going on or asking for what we deserved (mere survival needs). I tried to fight it off but emotionally, I took the blame, as I had done for the entire marriage. I was also hearing back all the lies that were being told about what I had done… which "made him" divorce me. Family and people we have previously gone to church with believed the lies.
He said we were divorcing because I was controlling. But that's not the truth! I just didn't think it was appropriate for him to have secret text conversations with other women––where he told them how much he cared about them and he wanted to be with them. That's NOT normal!
And when there is another woman it is normal to feel as though we're not good enough, that something is lacking in you for him to feel the need to look elsewhere. In my healing, I've learned even the smartest and prettiest women in the world get left for another woman. It's never about the one who was left. It's about the leaver. Their character and lack of contentment in this world. Some people are just never satisfied with what they have; they always want more or crave something new.
They are runners. Like the dog who runs as soon as he's let out the door. The dog that jumps the fence, even the electric one gives them a shock and keeps them inside the fence and their home. The dog that doesn't realize how good they have it; still runs away anyway. People who aren't content in any relationship, even the good ones, do the very same thing. They run any chance they get, chasing something imaginarily better than what they have at home. The grass is ALWAYS greener on the other side.
I didn't force him to leave; he made choices.
I heard the lie that I had kicked him out. He said that I had forsaken him rather than him forsaking me (and the children) when I asked him to make the choice between right and wrong; commitment or chasing someone else.
On that cold day in April, I had gotten up very early, dragging my two children ages 9 and 16, so we could be in line before 8:00 AM at the food bank. Even after the 30-minute drive, we just made it. As we got in line, outside, I was handed the number 200 (that's 199 families ahead of ours). In the meantime, my husband was sleeping in and leisurely making himself some food from the food I had picked up at the food bank the previous month.
He had left us without food when he went to his parent's house for Christmas, in December. I was lucky to have a great group of friends who send me money, through Paypal, to buy groceries that month otherwise we would have gone without. That year we had become regulars in the monthly food bank line, up until that day in April when I broke down in tears to the lady from the Department of Human Services, who was at the food bank. What was I to do to feed my kids? She reminded me yet again that I didn't qualify for food stamps or any other services as long as my husband and I were living together. He was SUPPOSED TO provide! The worker handed me a $20 Kroger gift card which I used to buy a few things on the way home from the food bank, but I still was very upset.
When we arrived home, he was there just watching TV and eating what little food was in our home. Knowing my husband had the money to buy groceries but was just choosing to wine and dine with his girlfriend, I exploded. I just couldn't take another month of this. He needed to choose––take care of his family or have a girlfriend. He could no longer have both. I asked him to buy groceries or move out. He chose to leave that day and within a week he was moved out. I could now qualify for food stamps.
No Matter what God Provides.
I recently completed my third book, a Bible Study about regaining your faith after divorce. In the book, I share the story of Hagar, a young Egyptian handmaid, from Genesis 16 and 21. She was abused by her masters, Abraham and Sarah. In her distress, she ran away from the family. God found her there, in the desert wilderness, and provided for her. Her story is a reminder that God sees the abuse that we women have had to endure, He sees our needs, and He not only cares, but He provides.
Our household was able to receive food stamps to help us survive for about a year until the caseworker said that what I was doing to make money (working from home: tutoring students, selling children's books, and writing on my blog) would not count. At that time they lowered my monthly food stamps to $15 a month. At first, I was a little worried, as I became reliant on that extra money to buy food every month.
But I just prayed and gave it to God, and He provided. I was working for the Lord and trusted in His divine compensation. (I still do.) I was able to pay all of our bills, I just needed Him to make sure that we ate. I was not unwilling to work (1 Thessalonians 3:10), I was doing God's work. Just outside the box of what the world said I should be doing.
Eventually, even the $15 a month ended when I graduated from college. They said my schooling, which had ended, didn't qualify us for help either. And you know what, we've never gone hungry, I've never stood in a food bank line (since those times when I was married), and I've even been able to donate to our local tiny pantry almost every month.
Is it always easy to have faith and trust God that He will provide? No! But every single time I feel fear and the distraction of the enemy to look at my circumstances instead of having faith, something happens to remind me that this is the path that God has me on. I just need to stay the course. Much like Nehemiah in the Bible, I'm doing a great work and I'm not going to come down from this position that God has put me in.
The biggest lesson I've learned.
The biggest thing I hope all divorcing women learn after their divorce is… that adultery, neglect, abandonment, rejection, covert abuse, gaslighting, and manipulation happened to you… but not because of anything that you (or I) had done to deserve it or cause it. I had to learn this too and so glad that I did. I couldn't fix (or cure) it… because I didn't create the disease that destroyed my marriage; I had to give up trying to keep or even save my husband from himself.
God knew it needed to end long before I could come to that same conclusion. I believe my divorce was part of the bigger picture that is my life; a puzzle that I've been putting together piece by piece. Only God can see the completed masterpiece, but I can trust that each piece happened at just the right time for a divine purpose.
Lastly, I learned so much from my toxic marriage and other relationships through my healing after the divorce. I learned so much about myself too. It opened my eyes to the legalism and patriarchy I was buying into. The divorce and rejection wound opened me up to all the diseases that were infecting my heart, mind, and soul. I needed to dig all of that out to make room for grace, mercy, forgiveness, and peace.
"Direct my footsteps according to your word; let no sin rule over me. Redeem me from human oppression, that I may obey your precepts. Make your face shine on your servant and teach me your decrees." – Psalm 119:133-135
All of that healing helped me to really understand God's heart for hurting and abused women. I'm able to share the comfort and the compassion given to me by God (2 Corinthians 1), only after I was able to accept it for myself. I now walked redeemed because I've experienced God's redemption. I carry no shame because I boldly share my story, which takes away shame's power over me. It's what God has prepared me for; so I work as a vessel to comfort others to the glory of God.
It's really all about Him! At one time, I had my husband in that place. Now, I have God right where He belongs… as the Lord of my life.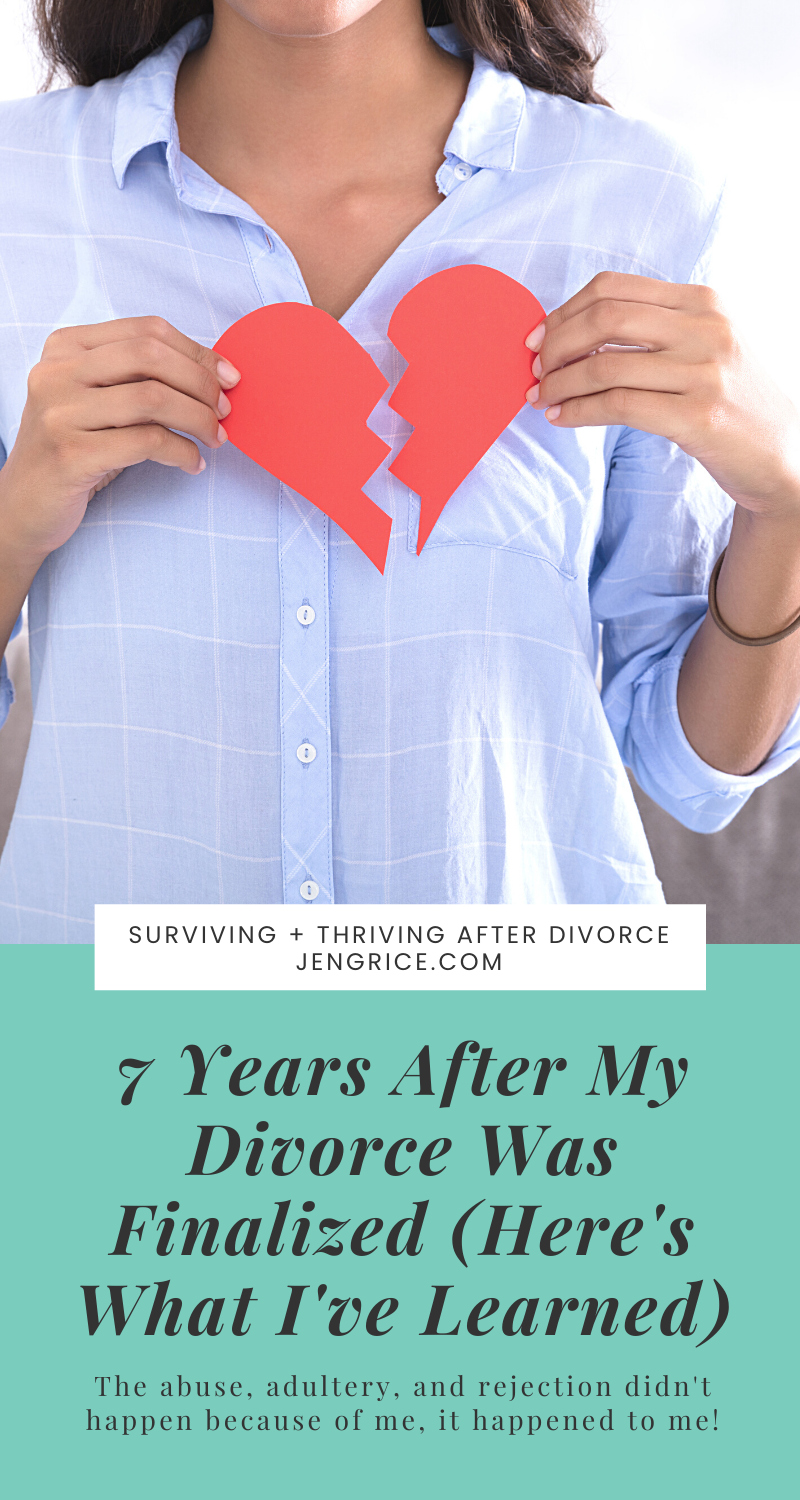 What have you learned in the months or years since your divorce was finalized? Share your wisdom in the comments below, your real name is not required.
May God bless your healing journey,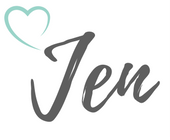 Related Posts: