For Domestic Violence Awareness Month (every October), I decided to focus mainly on abuse recovery here on the blog and to keep most of the abuse education over on my YouTube channel. (More videos, including my interview with Shannon Thomas, LCSW-S, author of Healing from Hidden Abuse, now available. Watch it now or save it for later.)
One of the best things I did for myself and my healing journey was to find an abuse recovery therapist and start seeing her on a regular basis. Our family licensed counselor told me I really needed to learn to establish and reinforce boundaries with my current family and friends (that was 5 years ago). But it wasn't until I started to learn what my rights were and what healthy relationships look like, that I really started to feel the changes happening.
I think others didn't like it either. Most abusers would really rather you stay the same.
Side note: We often seek therapy because we can no longer deal with the crazy people who need therapy! Go for you, as an act of self-love and self-care, knowing you'll also learn how to deal with those crazy, dysfunctional people in your life.
Did you know there are healthy families having healthy relationships right now in this world?
Did you know there are families who handle their issues (even conflict) in a healthy, positive way for everyone involved?
Did you know there are families (even divorced families) that are kind and respectful to each other? Not looking for ways to hurt each other?
For a long time, I didn't!
(Well, I did but I had rarely seen it! And I certainly had never lived in one of these families.)
I can even remember being told by an uncle that "all families are dysfunctional." I've since learned differently.
I talk a lot about how I thought my family (and his family) were "normal" until I started working through my divorce healing. After I was discarded by my abusers, I started to look back to all of the times I saw… and even participated in family dysfunction. (Yes, I said participated because we all play our part and need to learn better.)
While processing the past, digging deeper into why I thought certain behaviors were "normal," I was able to work on my healing, disengage from all dysfunction, and decide how I'd proceed in the future. Like I've stated before, I knew I didn't want to go backward because I was ready for a new healthier life, but I needed to start there before I'd be able to leave it all behind.
Sometimes looking back can help us move forward… to a more emotionally healthy life.
Dysfunctional family.
Picture this. You walk into a holiday family gathering. You hug your aunt and say hello to grandma. After you place your things down, your cousin pulls you aside to tell you Grandma and Aunt So-and-so are not talking to each other and you're to side with the aunt too… "Don't even think about talking to Grandma!"
What? Really? <confused face>
Yes, this is family dysfunction. Constant strife, habitual intoxication, lies and secrets that no one is allowed to share, someone's always mad at someone else and the whole family is brought in the middle, and that one person is always to blame for all that is going on.
The scapegoat or the golden child?
Growing up (and after marriage) the person everyone blamed, was me. No matter what I did or what I said, it was always my fault. If I tried to help (because that's just my character – a peacemaker and sometimes a peacekeeper – but always just wanting to help), then I was blamed by the parties. When I stayed out of the drama, far away from the problem and the people, I was blamed and then it was said that I didn't care about anyone but myself.
Can't win that dysfunctional game, can we?
No rules. Just blame, shame, and constant confusion. So that's why I stopped playing. I just don't participate and I let people say what they're going to say. Blame me! I know it's not the truth. And I know it's just their dysfunction.
Learning our rights in order to find our new healthy life.
I recently had a family situation that brought up the past and had the possibility of involving my past abusers. After some introspection, processing, and lots of prayers, I decided that I just wasn't in a place that I wanted to be involved that much in the situation.
Maybe I'll never be able to be around my past abusers, who still choose to look for ways to retaliate against me and hurt me, but I have that right to continue to live in peace (after going no contact).
I know some people might call me immature and say that I'm living in the past because I don't want to be around certain people. But I beg to differ.
Not subjecting ourselves to those who have proven themselves toxic and abusive is the safest and healthiest thing we can do for ourselves. Remember, self-care is not selfish, it's necessary for continued healing.
No one would tell a murder survivor to go hang around a murderer. A kidnapping survivor to go visit their kidnapper. A rape victim to go out with their rapist. Why is it any different for an abuse survivor (victim/target), especially if there has never been any repentance or remorse?
Where are our rights?
We have assertive rights… as human beings.
We have an assertive right to live in a space (and stay in that space) where no one is causing us harm – emotional or physical.
We have an assertive right to create and maintain safety.
We have an assertive right to feel at peace every single day.
We have an assertive right to be emotionally and physically supported by members of our family.
We have an assertive right to have a healthy, kind, and respectful conversation even in (especially in) a conflict situation. (Conflict should be kept between those involved, only, and others should never be pulled in like an army against another. That would be dysfunctional!)
We have an assertive right to feel any and all feelings that we feel, deal with our past hurt and pain, working through it however we need to for our own healing. (An abuser should not be telling someone they harmed how to heal from that hurt! They get no say in the matter!)
We have an assertive right to keep anyone we don't feel we can trust (because they're untrustworthy), at arms-length, even if we still want them in our lives. We get to decide how much we're involved with or when and where we can be around certain people.
We have an assertive right to keep anyone out of our lives (physically or emotionally) that have proven themselves to be abusive, deceptive, or harmful. (Not because we're trying to hurt or punish them but because it's what's best for our own healthy lives.)
Doing what is best for us, at any given time, is our right!
[socialrocket-tweet quote="I have an assertive right to separate from anyone who harms more than they love." tweet="I have an assertive right to separate from anyone who harms more than they love."]
Looking in the mirror.
After a divorce is a great time to examine your entire life, look at how it shaped your current life, deal with any mistakes that you've may have made (because we all have), devoting time and energy to discovering who you are (your purpose and who you were created to be), rewiring your brain and patterns to learn to be emotionally healthy, and then decide how you will live this next chapter of your life. You'll grow as you learn your rights, establish and maintain healthy boundaries (with everyone – past and present), and then be assertive in how you're going to live now, with lots of practicing along the way.
This new life is no longer just about being a wife, or even a mother. It's about being you and doing what is best for you! Those who put in the work are able to put their past and divorce behind them and go on to experience healthy, peaceful lives.
And that's what I'm all about here on my blog! 🙂
Have you had to look back in order to move forward? I know it's a lot of work but we're in this together. Keep up the great work!
May God bless your healing journey,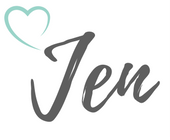 Looking for a divorce or abuse healing book to read? Check out this ultimate list of Christian resources to help you in your recovery.