Do you ever have dreams where you're falling? I do. And I usually wake up as soon as I start to fall. I physically jump, shake and take a deep breath… I'm okay! Thinking my muscles just needed to relax.
Last week I had one that was a little different for all the other ones that I've had before.
I was standing next to a rail that hit me just below the knees. I'm deathly afraid of heights so that is not like me to stand next to anything high enough to drop off or need a railing. Although for some reason, I wasn't scared as I looked over the edge to the empty space below. Then I start to fall head first.
Oddly, not feeling fearful at all… that's when I heard God say…
I will catch you!
I felt His comfort and care as I woke up thinking of this dream. And instantly knew that this experience was the illustration that I needed for this exact article. This was how I could share the love that I've learned to accept from our Father… after divorce.
So you have not received a spirit that makes you fearful slaves. Instead, you received God's Spirit when he adopted you as his own children. Now we call him, "Abba, Father." – Romans 8:15 NLT

The word Abba is an Aramaic word that means "Father." It was a common term that expressed affection and confidence and trust. Abba signifies the close, intimate relationship of a father and his child, as well as the childlike trust that a young child puts in his "daddy." (Source)
What Happens When No One Cares?
Looking back over my life I realize that there has never been someone who truly cared for me. My mother was incapable because she had a mental illness – she could barely take care of herself at times (I'm just thankful she kept herself alive long enough to not make me an orphan) and the rest of the time she was focused on her career.
Each time I had my children, especially when there were difficulties, and I was fearful of losing each of them before they were even born, my child and I were not cared for. When I had (post-partum) depression, anxiety, medical issues, and any other need in my life, I was not cared for. Actually, I was often told I was irrational or attention-seeking.
It became unsafe to share my struggles without being criticized. I wasn't even respected for being human – I was supposed to be a robot. Eventually, I just stopped sharing my burdens with other people. These and many other times left me feeling like I wasn't important to anyone in my life, and have left me feeling not worthy of anyone's care, not even my own.
Can you relate?
God Will Take Care of Your Burdens; You Don't Have to Beg.
This week has been especially hard for me. Even though God placed this on my heart, I've been struggling to complete this article, unable to put two words together. (You should see all that I deleted). The enemy loves to attack us when we're already down. In my weariness, I wanted to just give up and let the enemy (and others) win. My ministry is misunderstood by people I care about and I'm often attacked for motives that I do not have.
I've begged God for years to make it all stop or to give me another purpose for my life and divorce. Stop the crazymaking madness – I just don't like the drama! And that eyes shall be opened to see and hearts to be softened to hear the truth. But even though nothing has changed for those that I care about, the other night (as I rested in His care) I was led to a sermon that spoke directly to me. The pastor reminded me that I don't have to continue to beg God to fix things. He sees everything and has already heard me and my cry.


The example that came to mind, as the sermon went on, was when our child asks us for something that they need – like a meal. Dinner might not be quite ready, so the child has to wait, but we never make them beg to get their dinner. Actually, most of us would rather they not! Right? And if they beg for a snack we might remind them that they won't starve waiting for dinner to be done because the snack will spoil their dinner.
I think many of us are in THAT waiting period, waiting for our promised meal. (I'm right there with you!) We don't need a snack because there is something bigger coming. And instead of realizing that we don't have to beg, plead, or pout, we just think, "God doesn't care, just like everyone else in our lives." His lack of caring in our time causes us to doubt He cares at all. (Are you with me there?)
Accepting Gifts From the Father.
The earth is the Lord's, and everything in it. The world and all its people belong to him. – Psalm 24:1 NLT

Everything belongs to God, and all things were created by his power. – Hebrews 2:10a CEV
Reading through the book, The God Pocket, many years ago helped me to "put a face on giving" as the book states.
I've always been a giver but not a very good receiver. I just enjoy helping others, as many of us empath people do. But when there were times that I've had extra to give (from my God Pocket) and the receiver rejected my giving, that hurt me. I would tell them, this is from God, and sometimes they would and sometimes they wouldn't accept it.
But at the same time, that helped me to realize that I might be hurting the people closest to me, as well as denying God's gifts when I reject their offers. So since my divorce, I've started seeing the generosity of others as gifts from God (either something small – like a snack – to get me through or sometimes a huge blessing – like a meal).
God provides for others so that they can give gifts to me (from God). God provides for me and I share that with others when I feel led (via free, discounted, and giveaway books or gifts to friends and at times to my email subscribers). I'm so thankful now that more and more of us our sharing and accepting gifts from God. This is such a healing experience for me as I've learned to accept the care of my Father.
[socialrocket-tweet quote="If everything is a gift from God then why do we deny other people sharing their gifts with us?" tweet="If everything is a gift from God then why do we deny other people sharing their gifts with us?"]
He is a Good, Good Father.
My favorite Christian worships songs are, "How Deep The Father's Love For Us," "Good, Good Father," and "How He Loves [Us]" which are all great reminders of God's agape love for us. Don't we need this reminder, sometimes? I know I do.
God's only requirement of us is that we accept His care and understand He knows what is best for us, every time we have a need, and when He should deliver these gifts.
What is the price of two sparrows—one copper coin? But not a single sparrow can fall to the ground without your Father knowing it. And the very hairs on your head are all numbered. So don't be afraid; you are more valuable to God than a whole flock of sparrows. – Matthew 10:29-31 NLT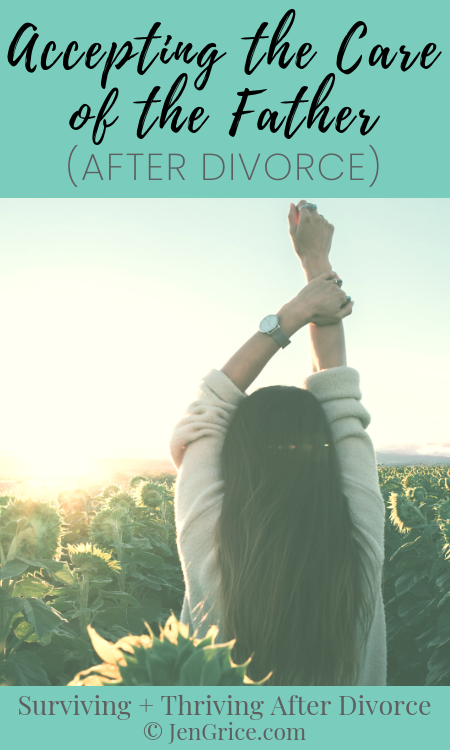 Is this something you've struggled with? Allowing God to care for you and accepting His care without begging and pleading?
May God bless your healing journey,