Contrary to what most of us believe about abuse… and even "domestic violence"… the sight of a woman who's being punched in the face and kicked in the ribs while her husband threatens to kill her is not the only form. That would be at the extreme end of a spectrum known as partner abuse. Most abusers never have to hit, kick or punch their partner to have power and control over them.
"Abuse is such a strong and harsh word."
I hear this phrase all the time from both men and women. Divorcing women, possibly still living in the abuse fog will say, "It's really not that bad." Then they minimize it by saying something about their actions or behaviors that may have caused or baited the abuse. Like somehow she could have controlled the entire situation, or the abuser, if she had only been a better person.
As I talked about last week, the frog stays in the soon-to-be-boiling pot because the temperature is increased little by little instead of instant heat. Abuse is a deliberate, methodical process of slowly breaking down boundaries, covertly attacking a woman's self-worth or value, and increasing the intensity until the abuser has complete power and control over the victim. In the case of a Christian, complete submission is the goal – he owns her body (1 Corinthians 7:4).
I do not take abuse lightly. It is a serious topic! But abuse happens a lot more than we think these days in ways that 10-15 years ago we just didn't know about or especially talk about. That's why education is so important. Because without the right knowledge of this topic, we'll minimize the abuse and no one gets the help that they need to stop the cycle of abuse (especially with our sons and daughters watching and learning).
Why do victims minimize abuse?
We're taught this from an early age.
We need to teach young girls that the abusive playground bully doesn't "like her" when he hits or throws things at her but should be reported to adults and avoided. And we need to teach our boys to be kind to girls instead of trying to get their attention by being abusive. Boys are watching their fathers for how to behave and girls are watching their mother.
I know when I was growing up I heard, "Be nice!" and "Act like a girl" all the time. I'm sure like most of us were taught very sexist roles. And once I was active in the church, the role of wife and mother became the purpose of my existence. I was to be a servant who never complained. And when I did, I was viewed as irrational, unforgiving, and a nagging wife.
When we're all taught boundaries we'll all act differently towards each other, respecting each others boundaries.
It's a coping mechanism.
Minimizing helps us cope with bigger problems that are outside of our control. Thinking "this couldn't be happening to me" or "it's not as bad as…" help us to survive the current situation and calm our fears. But at the same time, we're refusing to deal with the problem head-on.
In my psychology courses, I learned that our powerful brains will actually create a fictional story to emotionally cope with what is really going on in our lives. As a child, I often envisioned my dad was a movie star to make me feel better about the fact that he wasn't around and my mother was abusive. I told myself that one day I was going to be rescued by my father.
We often do the same as adults when we envision our husbands as the "sweet man" he once was, who we hope he'll be after he grows up a little (those of us who married young), or we focus only on the good times, forgetting the bad, while hoping for change in the future. We can actually get addicted to that hope for better days. That's what we're taught to do in church.
Hope is believing something good will happen next, right? We hope and pray that our friend or family member will be cured of cancer. And when they are, we see that God is still in the business of showing up with miracles. Cancer healing and marriage restoration is what we always hope for, but the reality is it doesn't always happen the way we had hoped that it would. Sometimes bad things happen, people die, and marriages end in divorce.
Plus as husband and wife, we often put up a united front that we are the perfect little happy couple, when all the way to church and all the way home, is a totally different story. We're expected to tell that story… while deep inside knowing the truth.
Why others minimize abuse?
The abuser.
He's going to minimize because he doesn't want to face the consequences of his actions or admit that he has a problem. Most abusers want to keep being abusive; maybe it's all that he's known. Whatever the reason, he wants to blame others or minimize it enough that he'll never be seen as an abuser or anything other than the great person he thinks he is. He is the biblical definition of the fool.
Unfriendly people care only about themselves; they lash out at common sense. Fools have no interest in understanding; they only want to air their own opinions. Doing wrong leads to disgrace, and scandalous behavior brings contempt. Fools' words get them into constant quarrels; they are asking for a beating. The mouths of fools are their ruin; they trap themselves with their lips. – Proverbs 18:1-3;6-7 NLT

You cannot separate fools from their foolishness, even though you grind them like grain with mortar and pestle. – Proverb 27:22 NLT
Fools don't understand…
The man who finds a wife finds a treasure, and he receives favor from the Lord. – Proverb 18:22 NLT
They just don't want to hear wisdom or the truth…
Wisdom is enshrined in an understanding heart; wisdom is not found among fools. – Proverb 14:33 NLT

Those who trust their own insight are foolish, but anyone who walks in wisdom is safe. – Proverb 28:26 NLT

Sensible people keep their eyes glued on wisdom, but a fool's eyes wander to the ends of the earth. – Proverb 17:24 NLT
The Church.
The Church minimizes because they're just not equipped to handle all that's required of helping an abuser and his abused family. For most pastors, the goal is to rehabilitate the abuser and to reconcile the marriage forgetting there are many steps before that can ever happen. They often hear the abuser's words but don't wait for the actions. Or worse, they see a few tears or a man kneeling at the altar and assume that is true repentance – when it's not.
For the kind of sorrow God wants us to experience leads us away from sin and results in salvation. There's no regret for that kind of sorrow. But worldly sorrow, which lacks repentance, results in spiritual death. – 2 Corinthians 7:10 NLT
No one can force an abuser to stop abusing or change the thought process that causes him to need power and control in his relationships. And it's often hard to decipher between Godly sorrow and worldly sorrow in just a few counseling sessions. Abusers need to want to change for themselves and their relationship with God… and not for the goal of reconciliation. I believe this is where the Church gets things confused.
Everyone else.
A man who has a reputation of being a drinker and accused of sexual misconduct was just placed on the supreme court. The President of the United States said because one of the accusers couldn't remember every detail of the assault, she must be lying. It became a political battle with one side of the aisle blaming and shaming – with people joining in on the discussion online.
Until the #MeToo and #ChurchToo movements, a lot of social media still minimized and justified abusive men's actions. Women are not believed even if 99.9% of all accusers are telling the truth. And knowing we could be blamed or told we're lying, shames us all into keeping quiet about our experiences with any sort of abuse.
It's still a scary time to point the finger at an abuser so we dilute the truth to make it easier to swallow. I even do this when writing about what marriage was like while I was married. I have been asked, "If it was so bad, why did you stay?" Again, that puts the blame on me for not leaving and divorcing earlier in the marriage.
[socialrocket-tweet quote="Until people are trained to see abuse, they will always minimize it and excuse it as something else… often blaming the victim." tweet="Until people are trained to see abuse, they will always minimize it and excuse it as something else… often blaming the victim."]
Who is to blame?
The only person to blame is the abuser, for his actions. No more justifying, blame-shifting, or minimizing. It's time we give the blame, as well as the consequences, to the person who's doing the abusing. Period! Call it what it is… abuse from an abuser… so that he can get the help that he needs to stop trying to control everyone and everything in his life.
[socialrocket-tweet quote="No more justifying, blame-shifting, or minimizing. It's time we give the blame, as well as the consequences, to the person who's doing the abusing." tweet="No more justifying, blame-shifting, or minimizing. It's time we give the blame, as well as the consequences, to the person who's doing the abusing."]
Until an abuser does get help and commits to change his thought process and his ways, we need to allow his family to walk away to have a safe and peaceful life. We need to allow women to care for themselves and their children while divorcing their abusive husband. It is not a sin to refuse to associate with fools, abusers, and other evil doers. I think it's a sin to force her to stay.
Don't befriend angry people or associate with hot-tempered people, or you will learn to be like them and endanger your soul. – Proverbs 22:24-25 NLT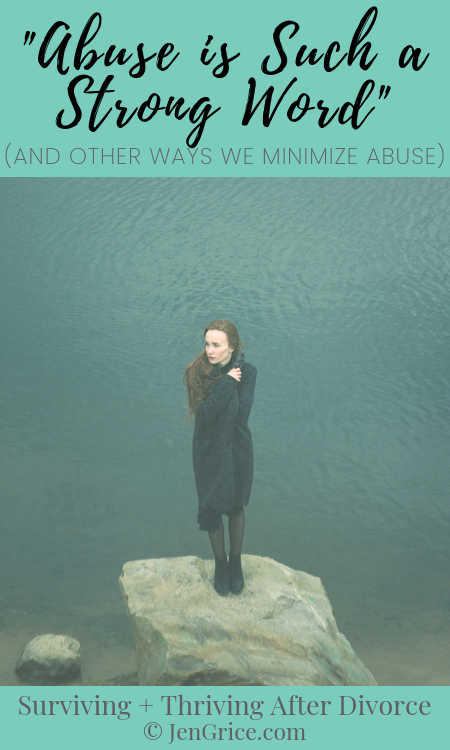 Have you minimized abuse in the past or heard others minimizing? Are you realizing it was abuse when previously you didn't call it that?
God bless your healing journey,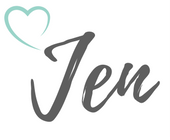 My Book Recommendations (or see more here):