In part one of this forgiveness series, I explained that forgiving is not instantaneous to heal the wounds of a divorce. But often, "You need to forgive!" is the first advice given by pastors and Christian helpers to separated or divorcing women. I know this because not only did I hear that phrase myself, but most emails from readers start out with, "I know I need to forgive…"
Miss part one of this forgiveness series? Be sure to read it before continuing so you understand what forgiveness is not – those misconceptions that we've been told and often believed.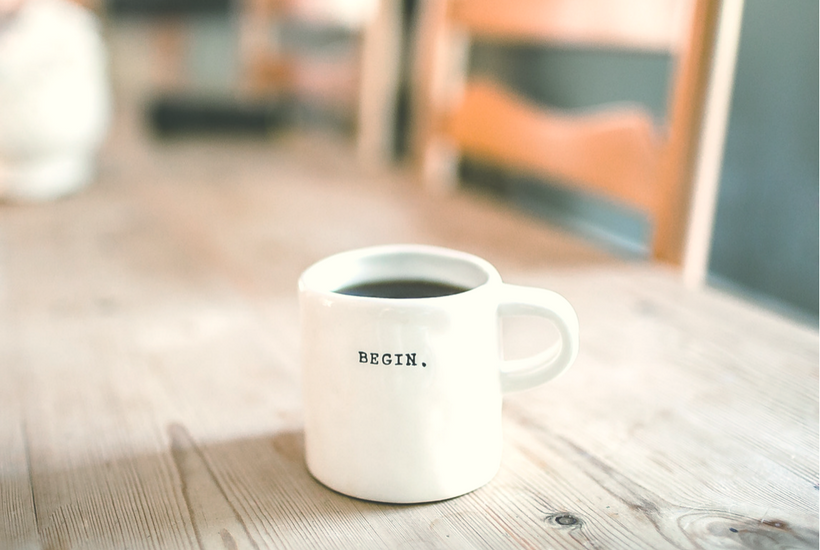 In my article, the 7 Phases of Divorce Recovery, I don't even mention forgiveness because it's not the first step, or even the first couple steps, in the divorce healing journey. Forgiveness is part of the healing process but it can't be and should not be forced in the beginning.
Forgiveness: The action or process of forgiving or being forgiven.

Process: A series of actions or steps taken in order to achieve a particular end. (Source)
The process of forgiveness.
In order to forgive, you must start with realizing that you need to forgive for yourself and not for those who've sinned against you. This is where we begin. Begin at wanting to forgive and not because someone told you that you need to forgive.
Forgiveness is a process, not only because it can't be done in one easy step, but it's often repeated over and over again, especially when you've been hurt repeatedly by the same person, which is usually the case when there was abuse and/or adultery in a marriage.
As I processed through the beginning steps of forgiveness I realized that I had a lot to forgive. After a time with a Christian counselor, I switched to a counselor who specialized in abuse recovery. Through therapy, I realized that some things that I had passed off as "normal" were actually abusive, so as I learned the difference, I had to forgive those things as well. I stuffed down a lot of pain in my over-a-decade-long marriage because I thought that was what happily married people do.
I believed the lie… forgive and forget.
I thought I had already dealt with that.
About a year ago, I recalled a time and place when my husband (at the time) was on the phone with some friends of his affair partner, while sitting right next to me, whispering and laughing. I knew in my heart at that moment that I was being laughed at, being treated like less than a person. I was being compared to her.
I was trying to compete to win back my adulterous husband. (Yes, I realize how dumb that makes me look. Read some of my story in older posts to understand why.) The only way I could make it through the rest of that evening was to stuff my feelings and pretend it didn't happen. I thought I was doing what was best for my marriage, even if he was not.
Thinking about this incident, reliving those hurtful feelings that I pretended didn't exist, helped me to work through forgiveness yet again. I had to process through that pain first, understand the dynamics and then I was able to let that go too.
When a memory pops up or you remember something you'd forgotten about, as hard as it is to deal with, you have to begin the process again for each individual offense.
What you don't know
can

hurt you.

People from my distant past would say, often, "What she doesn't know, won't hurt her."

How wrong is that statement?!?!

It says I'm going to deceive you and then not tell you anything or everything. It's total disrespect when you're being lied to and secrets are kept from you. Things that are obviously wrong! And it leaves a person wondering what really happened. How do you forgive when you don't know what you're needing to forgive?

Forgiveness becomes a series of steps backward, processing the past, educating yourself on an abuser's tactics, trying to remember everything, understanding you may never know the whole truth, in order to move forward. Sometimes this is painful but it's necessary to truly heal.

 
The truth always comes out.
Life would be ten times easier if people would just tell the truth, all the time. And we often think that eventually people will change their ways, come to their senses, and do the work needed to become a better, maybe even a repentant, person. But that's rarely the case.
In my experience, people keep doing to others the same as they did to you. When you get to see that happening again but it's not you who's being cheated on or abused, you start to realize that you were not to blame after all. And sometimes, the people who wondered about the truth, get to see through the lies to see the repetitive behaviors. That's when you start to realize this is exactly how this person is and is always going to be, so you can forgive and let go of the pain, knowing you're now in a better place.
You're no longer the one being hurt or sinned against. This is when you start to feel really bad for the new victims because that was once you in those shoes. That's all a part of the forgiveness process. I'm not sure if it ever ends. But I know we all need to begin.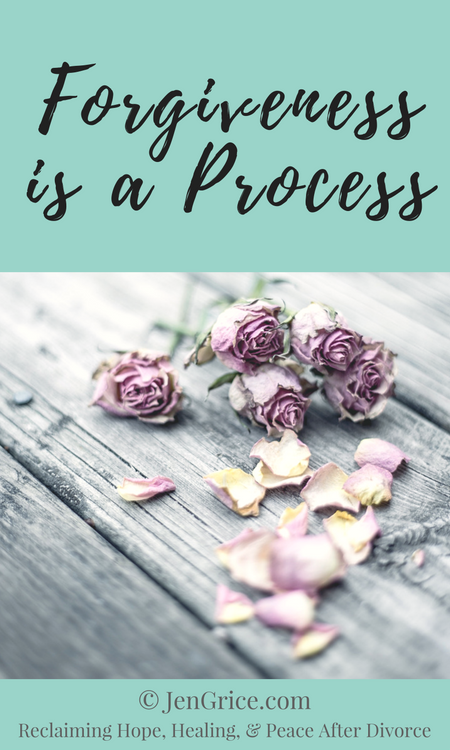 Lastly, healing and forgiveness are often like peeling open an onion, there are multiple layers. Each new layer will bring you closer and closer to feeling the peace, hope, and joy that all of us crave. Occasionally you will reach a bad layer, but with grace and mercy for yourself, you will process through to forgiveness. In the end, it's an eternal feeling and not a forced behavioral change – so don't rip off the layers too quickly.
Next week, I'll discuss the how to hand it all over to God.
God bless your divorce healing journey,