Hello, if you are stopping by from Pinterest!!
A few years ago I became a single parent. I had been blogging for several years by then, mostly about homeschooling. In 2015, I decided to start focusing solely on writing to encourage and empower divorced moms who had been through what I had been through.
Read more about this blog on the about page.
As a single mom (who works mostly from home) on a tight budget, we are always looking for ways to spend time together, without spending a ton of money. Here are our ideas!
Lastly, my son is expected to open doors for me and hold the door for others. I want to instill chivalry… because I think and hope it's making a comeback in our society. 🙂
I am sure most of these can be Mother-Daughter or Daddy-Daughter dates as well.
Enjoy!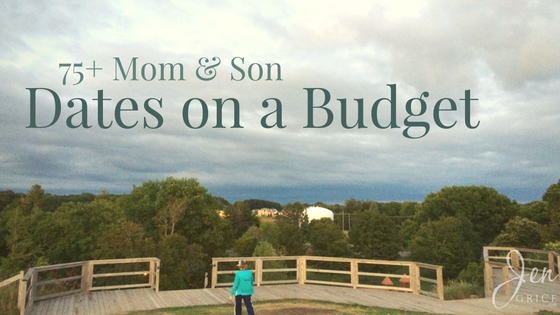 1. Play a card or board game.
2. Build a puzzle.
3. Create an awesome indoor or outdoor fort together.
4. Nerf gun fights.
5. Play with water balloons or water guns or both.
6. Go to the dollar store and pick up a new outdoor game to play.
7. Play catch in the yard. (These are so much fun!)
8. Play Minecraft together.
9. Play an active Wii sports game together.
10. Go to the library or a bookstore and read to each other.
11. Read joke books and then laugh really hard. 😀
12. Go for a bike ride.
13. Go grab a $1 ice cream cone off the dollar menu. (I usually get the pies!)
14. Take a picnic basket lunch to the park.
15. Rent a paddle boat or kayaks.
16. Go for a nature walk (collect items or bring a nature journal).
17. Pack a backpack and go for a hiking adventure.
18. Create a scavenger hunt. (Search Pinterest for free printable ideas.)
19. Play on the playground. (My son loves to push me on the swings.)
20. Go to a free museum. Or if you have a membership – then use it!
21. Visit the zoo or another attraction on free or discounted days.
22. Go to the planetarium or go outside at night with a stargazing app.
23. Visit a local garden or butterfly house.
24. Go fishing. (Don't forget a pole.)
25. Go camping. (If that's something you both enjoy. Not us! 😉 )
26. Take a 24-hour road trip.
27. Visit a factory tour.
28. Throw rocks into the stream/river (or whatever body of water you have close by).
29. Feed the ducks your stale bread and heels. (If allowed in your area.)
30. Fly a kite or just watch others.
31. Go to Lowe's or Home Depot's building/project days.
32. Travel the world through travel guides and/or videos.
33. Cook a fancy, international meal together. Enjoy what you made. Or order a $5 pizza if it's nasty (then laugh). 😉
34. Or do Science experiments with things already in your kitchen.
35. Rent a family movie (use a Redbox discount code or stream from Amazon), buy $1 candy, pop popcorn, and cuddle.
36. Find theaters that have free or cheap kid's movies.
37. Check out the drive-in. (Beginning of the season and end of the season is cheapest.)
38. Plant some flowers or a garden. (How cute are the little fairy gardens? I want one!)
39. Go geocaching. (Learn how.)
40. Go to a farmer's market. Pick up something new to try.
41. Go pick blueberries, strawberries, or apples. Then make something with them.
42. Go bowling. (Kid's bowl free)
43. Go rollerskating/rollerblading. (Call and ask about deals or coupons.)
44. Try a new sport together. Tennis or volleyball anyone?
45. Volunteer together.
46. Cook a meal for someone in need or at a shelter.
47. Take a cooking class together.
48. Take an American Sign Language class together.
49. Participate in a charity walk or other similar event.
50. Go paint pottery.
51. Take a painting class together.
52. Start (and finish) a DIY project. (Need ideas? HERE, HERE, & HERE.)
53. Check out your local YMCA to see what they have to offer. Rock climbing?
54. Go play laser tag or paintball.
55. Draw pictures with sidewalk chalk.
56. Go for a drive in the country. (Fall colors?)
57. Visit a historic neighborhood or home.
58. Visit Amish country – we love Shipshewana's flea market.
59. Visit a farm. Pet and/or feed the animals.
60. Visit a pet store. Ask if you can pet the reptiles. We love to hold them. 🙂
61. Go for a hayride.
62. Work through a corn maze together (in the Fall).
63. Go play miniature golf.
64. Go to the driving range.
65. Go play frisbee golf.
66. Play in the rain.
67. Play in the mud. Make mud pies. 😉
68. Walk downtown and window shop.
69. Visit a couple local businesses. (Support local business if you can.)
70. Go antique or thrift store shopping. (We really enjoy doing this.)
71. Check your local community event boards. Movies and concerts in the park? (We got a list with our electric bill.)
72. Check out a local symphony orchestra performance.
73. Go see a play.
74. Go out and catch fireflies.
75. Have a bonfire and try different ways to eat roasted marshmallows. (Have you tried them with fresh baked chocolate chip cookies? With Oreos? YUM!)
76. Sign up for the Pizza Hut's Book-it Program and read together. Then go out for pizza.
77. Sit on the front/back porch (in a swing or chairs) and count your blessings.
78. Go to the beach. Make a sandcastle.
79. Watch the sunset or the sunrise.
80. Get a book of 101 Kids Activities That Are the Funnest Ever! And plan your next date!!
Be creative… it's about making memories that kids will remember and traditions that they will carry on with their own kids.
God bless,