For many years of my life, I was so starved for love that I opened myself up to being abused by people who really did not love me. I heard their words and believed them. It wasn't until someone told me to use the verses in 1 Corinthians 13, replacing "Love" with that person's name that I finally understood the lie I was living. I now share this wisdom with the ladies that I mentor privately on a regular basis.
____ is patient and kind. ____ is not jealous or boastful or proud or rude. ____ does not demand its own way. ____ is not irritable, and ____ keeps no record of being wronged. ____ does not rejoice about injustice but rejoices whenever the truth wins out. ____ never gives up, never loses faith, is always hopeful, and endures through every circumstance." ~ 1 Corinthians 13:4-7 NLT
I think a lot of women fall into this same trap. We fall for it because we want to be loved. We don't realize that we don't have to be married, to be loved. We are loved just for being. We are worthy of love. And anyone who says they "love you" will do so with actions, more so than words. Because love is a verb.
We stayed much longer than we should have because we long to be filled with love… and believe their words.
We did not love ourselves enough to get out when we first saw the red flags.
I stayed… after I found "Friend Finder," in the computer's history. When I found out about affair partner number one. Then again when I learned about number two and number three and… What about the ones I don't know about? Why didn't I think I deserved better?!
Because I was so starved for love that I thought abuse was love, or as my counselor said, that was my "normal". I stayed because I was love bombed (targeted).
Then once I got on that emotional roller coaster, I didn't know how to get myself off. I thought I needed to make the personal sacrifices (you know with my own emotional and physical health) and just stay for the sake of "marriage" and to keep the family unit together. I believed that things eventually would get better. I believed my pastors who told me that my patience and kindness… and love… would change things.
Abuse is never love.
I believe that if a spouse is adulterous, even once, they are not loving! Love does not have affairs. A loving person does not, even if unintentionally, try to hurt another person especially through abuse. Love is protective of that marriage covenant, the other person's heart, and is not selfish. Love does not abuse. Period.
Furthermore, love stands up and doesn't enable wrong choices and behaviors. Sometimes love must be tough and walk away from relationships that are harmful to the innocent, especially the children who are watching.
Only Through God's love.
The longing for love is in the heart of every single person. But no human can fulfill that longing in another person. Only God can. When we try to use any other substitute we can fall into the trap of being abused by people without even realizing it. We become people pleasers – while worrying about what others think about us. (Me too!) Or even trying to impress others with what we have or what we look like.
Those things will never fulfill that longing for love.
When we know our Father's love we begin to love ourselves the way He does. See ourselves how He sees us. We start to gain our acceptance from Him, and Him alone.
When we have that, will no longer accept poor treatment, because we know to Whom we belong. We do not accept the lies or put up with abuse. We know what true love is because we feel it from God. God is love – even when He is disciplining us. And without the Father's love in your heart, you will never find lasting love.
This is why I have high standards for myself now. Because I know the love of my Abba, Daddy.
I am no longer an empty tank with a longing for love. I am filled and waiting for someone else who is filled.
Do not be so starved for love that you put up with poor treatment like I did.
You are worth so much more.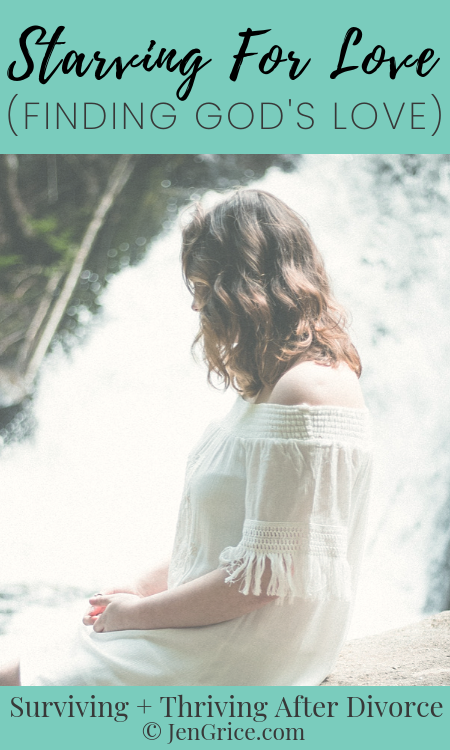 Where do you now find love? From the source?
God bless your healing journey,