The National Endowment for Financial Education (NEFE) reveals that
financial infidelity

can be just as significant among couples as emotional/sexual infidelity. (Source)
**This is part 3 in a series about how to financially survive divorce. Read all of the posts.**
What is Financial Infidelity?
Plainly defined, it's doing things with finances that you keep a secret from your partner. It could be hiding cash, taking out loans, opening credit cards, or making large purchases. Fighting about money is one of the biggest reasons for arguments in a relationship and a leading cause of divorce. (Source)
The kind of financial infidelity you and I probably experienced is the kind where, we were married to a spoiled rotten brat living in an adult body, as Dave Ramsey puts it and we could not stop things from happening with our family finances. Money was taken from accounts, or emptied completely, just to hurt us emotionally and financially.
Signs of financial infidelity (while married):
Money is used for manipulation
Sabotaging your employment or your education
Emptying a savings account
Withdrawing from a retirement account (without your knowledge)
Being removed from accounts (credit cards, bank accounts, etc.)
Being removed from health/life insurance
There is a secret post office box
There are secret credit cards (with or without your name)
Large possessions/property have come up missing
You're not allowed to see the finances or know how much money is in joint accounts
You are told there's no money (when there should be)
You're told you're not allowed to touch any money
You notice there's no money (when there should be)
You're getting calls from creditors (when you shouldn't be)
You find debt on your Credit Report that you didn't authorize
Stopping or refusing to pay child or spousal support after divorce
Financial or Economic Abuse.
Financial abuse is a tactic used by abusers to control victims by preventing access to money or other financial resources. It often begins subtly and progresses over time. Like other forms of abuse, it aims to gain power and control. (Source)
Often an abuser thinks he has a right to take "his money" and keep you from it. He may believe because you're done with him, you've moved out, or that he has another woman, that he no longer has to provide for his family. Sometimes these things are done in secret to hide an affair partner (more abuse) or hurt you emotionally. The abuser may be seeking revenge after you assert yourself to say you won't allow yourself to be abused by him anymore.
What if I've done some of these?
When you're escaping an abuser you might need to do things to protect yourself from financial abuse and prepare for the future. The difference between the abuser's actions and your own is motive.
What is the motive behind the actions?
Many men will say that a woman emptied his account leaving him with nothing. But we as women need to only take what is rightfully ours and not more to hurt your spouse. In most states, the courts allow you to take half of all family finances – but always talk with a lawyer in your state to know how "taking money" will affect you financially during the divorce process.
Steps you can take to prepare or recover.
Monitor your credit report (Free Annual Credit Report) for any discrepancies. Make sure your name and information were not used to obtain credit which will be your debt if it's not paid.
Separate your finances from your soon-to-be-ex or ex-husband. Remove your name whenever you can from accounts and debt (contact a lawyer for what is legally his and what is legally yours if still legally married).
Seek assistance from local agencies (in the U.S. call 211) – that's what they're there for! (Need a better job? Ask about job/resume services. Need a food bank or daycare? They have lists of available resources; don't be afraid to ask for help. Need a place to live? They help with that too!)
Complete the Financial Empo

werment Course

created by the Allstate Foundation Purple Purse.
Before you remarry, make sure your partner has disclosed every detail of his financial story – income, assets, debts, other financial obligations (including loans from parents or other family members), bankruptcies, his will, retirement and life insurance policies. If he's not willing to be transparent about everything, and/or if he tells you that he has financially ruined his ex-wife, then you may be getting yourself into the same situation, with someone else. That's why it's so important to heal your heart first after divorce.
[socialrocket-tweet quote="Signs of financial infidelity in a marriage and how to prepare and recover after. You CAN financially survive divorce!" tweet="Signs of financial infidelity in a marriage and how to prepare and recover after. You CAN financially survive divorce!"]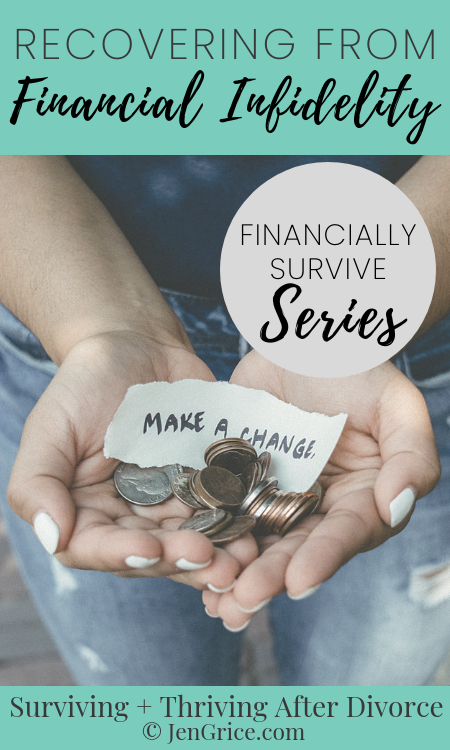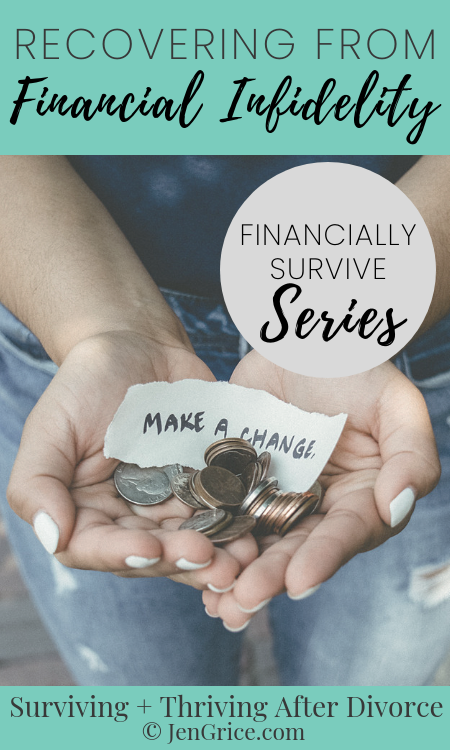 In what ways have you been affected by financial infidelity or abuse? How have you recovered? (Real name not required.)
God bless your healing and restoration journey,